Is it possible to find a good vacuum for $100 or below?
The answer is yes, but it is essential to know what you need.
We will be looking at the best vacuum cleaners under $100.
Not just that, we'll also show you how to select a cheap vacuum that will fit your needs.
Identifying these requirements is vital to get the most out of your purchase, and also help avoid buying a product with unnecessary features.
Here's a quick overview of all the vacuums on this list. It's a mix of upright, canisters, cordless, and handheld options.
For detailed reviews of each option, please scroll down.
An overview of the best vacuum cleaners under $100
Best Upright Vacuum Under $100
Bissell Cleanview Upright 1831
Great for: Bare Floors, Low Pile Carpet, Stairs, Upholstery
Cleaning path: 13.5″
Dirt Capacity: 2 L
Extended hose: 6 ft.
Power cord: 25 feet
Weight:4 lbs.
Warranty: 2 yrs.
Great for Pet Hair
Eureka NEU180B Upright
Great for: Bare Floors, Low Pile Carpet, Stairs, Upholstery
Cleaning path: 12.6″
Dirt Capacity: 2.6 L
Extended hose: 6 ft.
Power cord: 25 feet
Weight:85 lbs.
Warranty: 3 yrs.
Best Stick Vacuum Under $100
Hoover Corded Linx Stick
Great for: Bare Floors, Low Pile Carpet
Cleaning path: 11″
Power cord: 20 feet
Weight: 8 lbs.
Warranty: 2 yrs.
Great for Hard Floors
Bissell Hard Floor Expert
Great for: Hardwood, Tile, Linoleum
Cleaning path: 10.6″
Power cord: 20 ft.
Weight: 7 pounds
Warranty: 1 yr.
Best Corded Handheld
Shark Rocket HV292
Great for: Upholstery, Stairs
Dirt Capacity: 0.46 L
Power: 400 watts
Power cord: 15 ft.
Weight: 7 lbs.
Warranty: 1 yr.
Best Cordless Handheld
Black & Decker CHV1410L
Great for: Spot cleanups
Run time: 10 minutes
Dirt Capacity: 0.6 L
Weight: 6 lbs.
Warranty: 2 yrs.
Handheld for Pet Hair
Bissell Pet Hair Eraser
Great for: Pet hair on upholstery and stairs
Dirt Capacity: 0.78 L
Power cord: 16 ft.
Power: 4 amps
Warranty: 1 yr.
Table of Contents
Some things to consider when buying a cheap vacuum
Before purchasing any vacuum, consider these the following features.
The last thing I want you to go through is buyer's remorse.
There are features to consider before purchasing a vacuum cleaner to prevent this. Yes, even cheap vacuums under $100 will require such.
The first criterion is the budget, or at least a price range. Doing so will help cross out options that out of that range.
Don't get too cheap though and purchase the most inexpensive option around because these products tend to use cheap, brittle plastics that prematurely break.
While we're on the topic of price, some may consider buying second hand or refurbished vacuums to save a few bucks.
Yes, there are monetary savings, but the issue is the service history or the lack thereof.
There's no way of knowing how the first owner used the product, so that can be a red flag.
In most cases, the difference between a brand new and secondhand vacuum isn't a lot, so the risk is not worth it.
The next thing to look at is the features.
Look inside the home to see what features to prioritize.
For vacuuming floors, a stick or upright vacuum would be a logical option. If the need is small cleaning tasks, then a handheld should be the preference.
To summarize, here are some guidelines to help with your selection:
Identify Need: What's the need inside the home? Is it for quick cleaning tasks, or for cleaning floors? Knowing what the need is will help identify the type of vacuum that will do the job most effectively.
Simple Design: As technology advances, so does the complexity of vacuum cleaners. My suggestion is to avoid options that are too complex that have too many moving parts. It may be fun to use while it's new, but as it ages, any of these moving parts can break and cost a lot of money to repair.
Consumer Reviews: Reviews don't lie (in most cases). If there's something wrong with the product, it will show up in the product reviews. Read through the reviews and see if there is a pattern that comes up.
Got Pets? Homes with pets will require something that has a motorized brush or at least a stiff brush for the task.
Have Allergies? Folks who have allergies should consider a bagged vacuum. To learn more about it, please read this guide about bagged vs. bagless vacuums.
Reputable Brand: It's advisable to stick with a known brand that has a track record of producing quality vacuums. The most significant risk of buying a new brand would be the availability of parts. Ask this question, "would that manufacturer still be around after 5 years?"
Warranty: Don't overlook the warranty of the product. It's another critical component in product selection. There are some options (check the list above) that have as much as a 3-year warranty. Not too shabby for a product that's below $100, right?
Types of vacuums and their suitability
Let's look at the best vacuums under $100 for every category. The list includes upright vacuums, handheld vacuums, cordless vacuums, and stick vacuums.
Cheap upright vacuum
An upright will, in most cases, provide the most power and the best performance on carpet.
These machines come with the longest cords and largest bins, thus making them suitable inside bigger settings. Keep expectations in check when it comes to versatility as these behemoths are the heaviest.
There are options in this category that can clean areas above floors thanks to the hose and attachments. These options are good enough to vacuum stairs and upholstery, but that's about it.
Best Vacuum Cleaner Under $100: Bissell Cleanview Upright 1831
When it comes to pure carpet cleaning performance, it's hard to beat the Bissell Cleanview 1831 upright.
The OnePass technology, along with the stiff bristles, combines to make this one of the best performers on carpet at this price range.
Airflow was measured at 33.1 CFM at the cleaning head and 82.7 at the hose. This power translates to a 100% pick up for embedded sand on carpets.
On the left is the Eureka PowerSpeed, and on the right is the Bissell CleanView.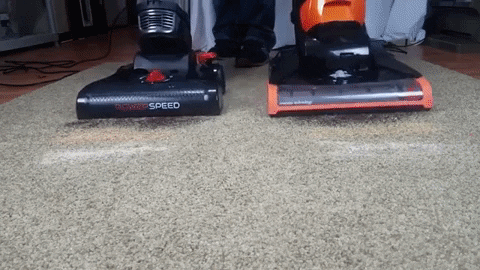 However, the lack of a brush roll off switch hampers the performance of the Bissell Cleanview on hard floors as the bristles will shoot debris from the back – a common issue with cheap uprights.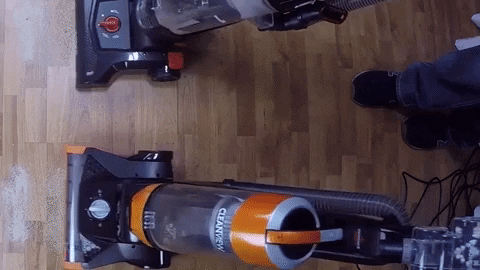 Not the best option on hardwood floors if you ask me.
What makes this a valid option?
Excellent for Carpet: The stiff brushes and suction enable this upright to deep clean carpet. In tests, it was able to pick up 100% of sifted sand on medium-pile carpets.
Large Capacity Bin: The dust cup can hold up to 2 liters of dry dirt – plenty for small or medium homes.
Can Clean Upholstery & Stairs: This upright vacuum has some versatility to it as it is capable of cleaning stairs or upholstery thanks to the hose and mini-turbo brush.
Wide Cleaning Path: Cleaning will be efficient thanks to the 13.5" nozzle.
Some issues
So-so Filtration: Does not have a sealed system so fine allergens will seep through the exhaust.
Poor Performance on Hard Surfaces: This option isn't usable for cleaning on hard surfaces because it lacks the option to turn off the main brush.
The dry dirt capacity is at 2 liters, which is 0.6 liters lower than the Eureka Powerspeed NEU188A but still more substantial than most of the options in this list.
Cord length is at 25 feet, but it is essential to point out that this variant does not come with the cord rewind. That option will cost more at Amazon.
It has a wider than average cleaning path at 13.5", so more area is covered in a single pass.
The bottom line is the Bissell Cleanview 1831 should be on your radar only for vacuuming carpet. Don't buy this for cleaning bare floors because the results will be disappointing.
Great for Pet Hair: Eureka NEU180B Upright
The Eureka NEU180B is a similar product to the Bissell Cleanview at a lower price point.
Both these vacuums have the same power output at the nozzle, but the Eureka is slightly lower at the hose because it's longer at 7 feet vs. the 6 feet on the Bissell.
Having the same power does not translate to a similar cleaning performance on carpet as the Eureka was only able to pick up 98% of embedded sand. It's still an impressive result given that this upright costs less than $80.
What makes this a good option?
Low Acquisition Cost: This upright will cost less than the Bissell Cleanview and yet provide similar performance on carpet.
Capable at Deep Cleaning: The results don't lie, this Eureka can pick up 98% of fine sand on the carpet.
Huge Dust Bin: The 2.6-liter capacity is 0.6 liters more than the Bissell so you won't need to empty this as often.
Some issues
Not Great on Bare Floors: The lack of a brush roll off option makes it unusable on hard floors.
Short Warranty: Eureka only offers a 1-year warranty on this product.
Cord length is the same at 25 feet, and it has a narrower cleaning path at just 12.6" wide.
It also has a larger bin at 2.6 liters, so this option will suit larger homes better.
Aside from cleaning carpet, which is its main strength, this vacuum does have some versatility. It has a crevice and brush tool plus onboard storage to store these attachments.
However, it lacks a small turbo-brush that would have been useful on carpet stairs and fabric sofas.
The Eureka upright is an excellent option if you don't mind not having the extra tools or the shorter warranty. It's cheaper and has comparable performance with the more expensive Bissell Cleanview.
Cheap Stick Vacuum
If upright hoovers are too bulky or heavy, then a stick vacuum is the next logical choice.
These machines don't clean as well on carpet but perform better on hard surfaces.
The options in this category aren't quite as extensive as full-sized cleaners. Don't expect cordless functionality or top-notched quality because those options will go well over the $100 threshold.
Best Stick Vacuum Under $100: Hoover Corded Linx Stick
The Hoover Corded Linx Stick is the corded version of the Linx Signature Series. I would have put the cordless version on this list, but it costs over $100.
So I put the next best alternative, which is the plug-in version.
Take note that both these vacuums have the same design and will perform at a similar level.
One advantage that this product has over the other two uprights on top is the weight. It weighs only 8 pounds with most of it at the base.
So using this is very light on the wrist and arms as opposed to a Dyson cordless.
What makes this a good option?
Lightweight Option to a Full-Sized Vacuum: Weighing just 8 pounds, this plug-in version of the Linx Stick is easier to move around.
Excellent on Bare Floor: It's got a brush roll off feature that gives it exceptional performance on hard floors.
Capable of Cleaning Large Debris: In the middle of the main cleaning head is an opening that funnels in larger pieces of dirt.
Easy to Empty: Utilizes a system that makes it easy to dispose of dirt.
Some issues
Not as Good at Deep Cleaning: One drawback to the smaller motor is the inferior performance when it comes to cleaning embedded dirt. Whereas the Bissell was able to pick up 100%, this stick only picked up 78% which isn't bad.
Lacks Versatility: This vacuum is strictly a floor cleaner. There are no hoses or extra accessories included.
The design of this vacuum is geared towards floor cleaning. It does not have any hose or tools for cleaning upholstery. You're buying this product for one thing – sweeping floors, and it does an excellent job at it.
With the motor sitting closer to the cleaning head, it has more power than other options at its price range, with 31 CFM— more than the Hoover React, Dirt Devil Reach, or the Eureka PowerBrush.
It does an excellent job cleaning surface dirt, capable of picking up debris of different sizes from dust to Cheerios.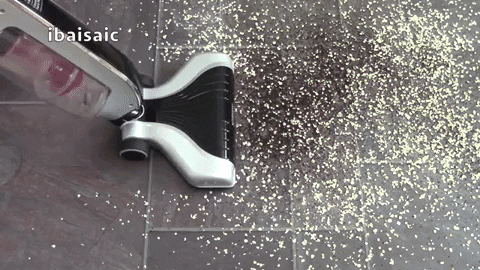 Deep cleaning won't be as good as an upright at just 78%, but the lighter weight and mobility more than makes up for this limitation.
Homeowners looking for a lightweight stick vacuum that excels at picking up dirt on carpet or hard floors should give this product a long look. It's not as fancy as the Dyson V8 or Shark ION P50, but it does the job.
Great for Hard Floors: Bissell Hard Floor Expert
Perhaps the most unique vacuum in the list is the Bissell Hard Floor Expert.
It's built to tackle one surface which is hard floors. Every feature built into this stick vacuum is designed for cleaning dirt from hardwood to tiled surfaces.
Reviews have been positive so far. It's able to tackle different types of debris such as pet litter, Cheerios, pet hair, etc.
What makes this a good option?
Built for Hard Surfaces: People looking for a hard-floor-only stick vacuum should consider this lightweight option.
Cleans Pet Hair Well: The V-shape design works well at capturing pet hair even around furniture and edges.
Lightweight Design: There won't be any issues moving this vacuum around the home with the lightweight 7.1 pound frame.
Excellent Edge Cleaning: The main nozzle has a funnel that goes all the way to both ends allowing it to clean edges thoroughly.
Some issues
Poor Filtration: Does not have a sealed system or a HEPA filter. If anyone in your home has allergies, don't buy this product.
Frequent Cleaning: Another issue is the need to frequently clean the filter, especially when vacuuming pet hair or litter.
Looking under the main cleaning head reveals a nifty design that has funnels dirt at three different areas – the middle and both sides.
These nozzles allow large particles of dirt to fit, while the rubber flaps ensure that dust is also picked up.
The unique design makes the Bissell HardFloor Expert compact enough to tackle corners, edges, and areas around furniture.
However, not everything is rosy with this vacuum cleaner as there are two main issues. The first would be the filtration – it does not have a sealed system so that allergens will seep through the exhaust.
The next issue is the filter, to be more specific, the frequency you need to clean it.
Those issues aside, this lightweight stick vacuum is still a handy tool for cleaning homes that have lots of bare floors. It's lightweight, cheap, and great for this purpose.
Cheap Handheld Vacuum
Perhaps the most nimble option is the handheld vacuum. These vacuums are the lightest and the most versatile but offer the least amount of power.
Some options come with multiple attachments that help to reach the tightest areas inside your home or vehicle. Handhelds are a great complement to an upright or stick vacuum.
Best Corded Handheld: Shark Rocket HV292
One of the best options for handhelds is the Shark Rocket HV292, thanks to the hose and the bevy of tools.
The HV292 variant available in Amazon comes with a total of four attachments:
Crevice tool
Dusting brush
Hose
TurboPet mini-turbo brush.
All the tools except for the TurboPet brush are usable direct on the vacuum or hose. The motorized attachment isn't usable with the hose since there's no power running through it.
What makes this a good option?
Excellent Reach: The flexible hose gives this handheld vacuum extra reach to tackle tiny spaces.
Cleans Upholstery Well: Folks looking for a handheld capable of cleaning upholstery must give this option a look.
Power: The 400-watt motor is capable of inhaling various types of debris.
Some issues
Small Capacity Bin: This handheld can only hold up 0.42 liters of dry dirt.
The power cord only measures 15 feet so the range will be limited.  The filter is washable, but the dust cup is not since there are contact points that could potentially short out with water exposure.
It does not have any sealed system, so don't buy this vacuum if you suffer from any type of allergy.
The Shark Rocket HV292 is an outstanding option for people looking for a lightweight handheld capable of vacuuming fabric upholstery or carpeted stairs. It also makes an excellent car vacuum cleaner if you don't mind the cord.
Best Cordless Handheld: Black & Decker CHV1410L
For people who want a handheld without the cord, the Black & Decker CHV1410L is an excellent option for quick cleanups. The lightweight body (only 2.6 lbs.), built-in tools, and powerful suction allow it to clean surface dirt on a variety of areas inside your home or vehicle.
What makes this a good option?
Light and Nimble: The compact size and lightweight frame make this an ideal handheld to pair with an upright or stick vacuum.
Built-in Tools: All the tools are built into the unit, so there's little risk misplacing them.
Powerful Suction: This handheld provides excellent performance on surface dirt regardless of surface. However, it may struggle with stuff like sugar on high pile carpet but still picks up more than 90% in tests.
Some issues
Long Term Issues: There's no available battery on the aftermarket, so if it breaks, this vacuum becomes a paperweight.
Only Runs for 10 Minutes: The small Li-ion battery will only run for 10 minutes on a full charge.
This variant is the less powerful version of the Black + Decker BDH2000L that's more expensive. The difference between the two is power and battery – the BDH2000L has a 20-volt Li-Ion battery while the CHV1410 only has the 16-volt version.
It has two attachments that come along with it – a crevice and brush tool. Both are built into the unit, so there's no need to carry extra stuff.
The dust cup can hold up to 0.6 liters of dry dirt. Emptying it is simple – push the two gray buttons on the sides to release the nozzle.
Another button in front of the handheld releases the lock of the dust canister and provides access to the filter.
While the filter is washable, it needs to be replaced every 6 to 9 months.
Overall, this handheld is an excellent cord-free option that will clean small messes well. Don't expect much in terms of run time as this will only run for up to 10 minutes.
Handheld for Pet Hair: Bissell Pet Hair Eraser
Pets are great companions to have at home. They give you unconditional love and a loyal friend.
However, owning pets is messy, and you need special tools to clean hair, especially during the shedding season.
The Bissell Corded Pet Hair Eraser is one such item that pet owners need to keep pet hair from piling up!
What makes this a good option?
Simple Design: This handheld uses a specially designed rubber nozzle that's very efficient at picking up hair from beds, sofas, or stairs.
Light and Compact: This vacuum is easy to move around since it only weighs around 5 pounds.
Above Average Dirt Capacity: The dust cup can store up to 0.78 liters of dirt and hair which is slightly larger than the Dyson V10.
Some issues
Lacks Tools: You won't get much in terms of attachments – it only comes with a rubber nozzle for pet hair and short suction nozzle for everything else.
Instead of a roller brush, this vacuum cleaner uses a flexible rubber nozzle with a ribbed exterior to agitate and remove pet hair.
How effective is it? Look at this clip and judge for yourself.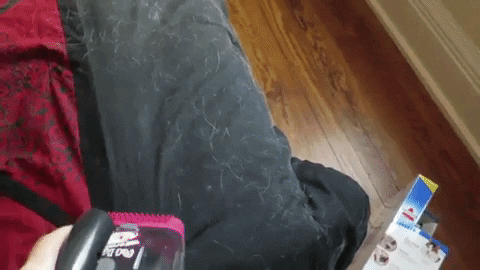 Look at that pile of a mess. It will cost a fortune taking it to the launder mat every time hair piles up.
This version of the Bissell isn't sophisticated as their newer handhelds, but this simplicity is good because there are fewer moving parts, so it'll last for years.
You can wash the filter, but it's not a lifetime-type filter, so you'll need to replace it every 6 to 9 months.
But for its purpose, this Bissell will clean pet hair efficiently. Even it lacks versatility, it will do the job.
Pros and Cons of a Cheap Vacuum
Buying a cheap vacuum will save you a lot of money, but the more significant concern is quality – whether or not more frequent replacements will offset the cost savings in the long run.
In this section, I'll discuss the benefits and misconceptions of buying a cheap vacuum cleaner.
High price doesn't always equate to good quality
Many people fall into the trap of thinking that high price equates to quality. Yes, there are a lot of expensive vacuum cleaners that cost a lot. However, there are also premium-priced items that have quality control issues and breakdown prematurely.
In most cases, these products have new technology that's either too complex or have not yet been tested thoroughly. The issues will always reflect in the reviews, so make sure to read into these before making the purchase.
There are cheap vacuums in the sub-$100 range that offer exceptional performance. However, don't assume it to have the same quality as high-end vacuums.
Buying a vacuum below $100 and expecting high-end quality isn't realistic and the math doesn't add up.
To reduce costs, manufacturers have to cut corners somewhere, and it's usually the quality of plastics used, filtration or both.
If you don't mind these compromises and know what to expect, it can be a trade-off that can save some serious dollar.
Advanced features aren't a necessity
Technology is advancing at such a rapid pace that some of the conveniences we had ten years ago are now necessities. The same can be said with vacuum cleaners.
However, a lot of these innovative features don't help with the bottom line – it's only there to make our life easier.
Remember that buying a vacuum under $100 means crossing off features such as digital display, dirt detection, and such.
Compromise on filtration
One issue that plagues a lot of vacuums under $100 is the filtration or the lack of it. It is true for bagless options where allergens will seep through the filter and exit through the exhaust.
Allergy sufferers looking to buy a budget vacuum should look into getting a bagged option. These products will offer better filtration than a bagless but at the cost of purchasing bags in the long term.
Aftersales services
One risk in buying from startups is the lack of aftersales service. Most of these companies lack the human resources to handle the potential influx of complaints from consumers or don't have the right systems in place.
Replacement parts
Expensive vacuums equate to costly replacement parts. But that is offset by the lengthy warranty these manufacturers provide. However, the problem is when the warranty expires after a crucial part, such as the battery or belt breakdown.
Make sure to check the availability of critical spare parts such as the battery, belts, and filters before purchasing a vacuum.
The Verdict: What is the Best Vacuum Cleaner Under $100?
It's hard to pencil in a "one-size-fits-all" answer to this question. The need is the primary question that needs to be answered here.
Here's the summary of all the recommendations.
| Best For | Model | Price |
| --- | --- | --- |
| Deep Cleaning Carpet, Carpet Stairs | Bissell Cleanview Upright 1831 | Check Price |
| Deep Cleaning Carpet | Eureka NEU180B Upright | Check Price |
| Hard floors, Carpet | Hoover Corded Linx Stick | Check Price |
| Hard Floors | Bissell Hard Floor Expert | Check Price |
| Upholsery, Stairs | Shark Rocket HV292 | Check Price |
| Spot cleanups | Black & Decker CHV1410L | Check Price |
| Pet hair on upholstery and stairs | Bissell Pet Hair Eraser | Check Price |
If the need is cleaning carpet floors then any of the two uprights (Bissell CleanView or Eureka 180B) in the list is worthy of consideration.
People who want something lighter that's better suited on hard surfaces should look at the Hoover Corded Linx Stick Vacuum. It's got similar power to the cordless version, but the advantage of the cord is not worrying about the battery shutting off.
Lastly, there are three different handheld options for those looking for quick cleanup solutions.