The V6 Absolute may change the way you think about cordless vacuums, particularly how it cleans bare floors.
This model is V6's top-spec version that has both the soft roller and direct-drive attachments that cleans hard floors and carpets, respectively.
It is a better version of the Motorhead since it can clean hard floors better.
With the newer Dyson models out, the V6's price has plummeted, and if you're looking for an inexpensive cordless stick vacuum that cleans well, have a close look at this model.
A Mid-Priced Stick Vacuum with High-End Performance
Dyson V6 Absolute Review
The Dyson V6 Absolute is an excellent option for people looking for a mid-priced stick vacuum capable of cleaning hard floors and carpets. This model is Dyson's entry-level model, but the performance is hardly entry-level, thanks to the tools that come out of the box. The Absolute model is the V6's high-end option that has both the fluffy and direct drive attachment so that cleaning performance won't be an issue. However, the small dust cup that doesn't have the hygienic system could be an issue as it can be messy to dispose of dirt. The run time is also on the short side – around 20 minutes, so this vacuum isn't for large homes. If these issues don't bother you, then have a close look at the V6.
*If you click this link and make a purchase, we earn a commission at no additional cost to you.
A quick look at the features
Comes with the soft roller cleaner head (made from soft nylon) that removes large and small debris from hardwood
Equipped with the direct-drive head that provides 75% more power than the DC59
Has a sealed system with HEPA filtration
It comes with a V6 digital motor
Has 2-tier radial cyclones
20 minute run time (3.5 hour charge time)
2-year warranty
Pros
Strong suction power especially at the max setting (100 air watts)
Lightweight (only 5.1 pounds)
A versatile machine that can clean floors, ceilings and everything in between
It comes with six tools that can clean bare floors, carpet, blinds, upholstery, etc.
A direct-drive cleaner head provides excellent agitation on the carpet.
Cons
Very expensive
Small dirt capacity so you'll need to empty it often
The built-in battery is a concern long term
Related: See Dyson cordless vacuums differ in this article.
What to Expect from the Dyson V6 Absolute
The Dyson V6 Absolute has the same V6 motor as the DC59 Motorhead. The most significant difference would be the attachments that come along with it.
The V6 Absolute comes with the soft roller cleaning head specially designed to clean bare floor surfaces without scratching it.
To summarize, the V6 comes in several different variants: the V6 Cord-Free, MotorHead (or DC59), Animal, Trigger, Mattress, Car + Boat, Top Dog, Baby + Child, Fluffy, and the V6 Absolute.
Here's how these variants are different.
The bare-bones V6 comes only with the combination tool as the lone attachment (aside from the floor tool)
The V6 Motorhead adds a crevice tool to the mix.
The Animal adds a mini-soft dusting brush, and the Absolute adds to that the mini motorized tool for upholstery plus the soft roller cleaning head for hard floors.
That's a total of 6 attachments, which is excellent value for money, in my opinion, considering this was Dyson's flagship option several years ago.
Other attachments include the direct-drive cleaner head, which has 75% more agitation than the DC59 Animal – works great on carpet. The crevice, combination, mini-soft dusting brush, and mini motorized tool round up the tools list.
It also is equipped with HEPA filtration, so allergy sufferers should benefit from using this cleaner.
Similar to the DC59, it has a 20-minute run and a 3.5 hour charge time.
Power is the same at 28 air watts and 100 air watts when using the max setting.
Attachments and Accessories
It comes with five tools aside from the direct drive tool.
How long does the Dyson V6 run?
On normal mode, this will run for up to 20 minutes, on max mode run time will be approximately 6 minutes. However, if you use any of the motorized tools, the run time will be less than 20 minutes (more in the 15 to the 17-minute range).
It will take around 3.5 hours to charge this fully. You can leave this vacuum plugged in and not worry about overcharging it.
Are the filters washable?
The Dyson V6 has two filters – a pre-motor filter that sits in the middle of the cyclones and a post-motor HEPA filter behind the motor.
Like the DC59, this machine has the same washable filter that will last the lifetime of the device.
How long is the warranty of the Dyson V6 Absolute?
All Dyson cordless vacuums come with a 2-year warranty.
Bare floor performance
The soft roller cleaning head is a great addition here because it does two things well. It provided excellent pick up on bare floors without scratching. This tool has a soft nylon exterior, which gives enough agitation without scratching delicate hardwood.
Long strands of hair will still wrap up this tool, but it is easy to cut off.
Here's a video on how it performed on the hardwood.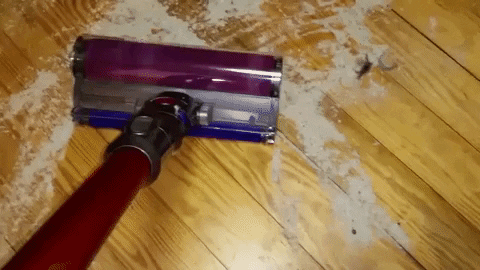 You'll notice that it provided excellent pick up even under the seams of the wood planks, but it pushed some of the larger debris.
Carpet cleaning performance
When you combine the motorized direct-drive cleaner head and the decent suction (at least by cordless standards), the result is a suitable carpet cleaning machine that will pick up all sorts of debris from hair to fine dust.
Take note that the direct-drive head produces 75% more power than the DC59 Animal, which means it has 75% more agitation power.
It means better cleaning on carpet, but despite the improved agitation, it will still not match a full-sized upright in terms of deep cleaning.
Here's how it performed cleaning pet hair on the carpet.
For a cordless vacuum, the results were awe-inspiring! It shows you two things that the V6 has – agitation and suction. Again I must warn you that this isn't a deep cleaning machine, but it does help you clean up even messes this big.
On one pass, it picked up almost everything in its path; it also filled up the dirt bin entirely, so that's one of the downsides of this vacuum, a really small dirt capacity.
Here's another test this time on long pet hair.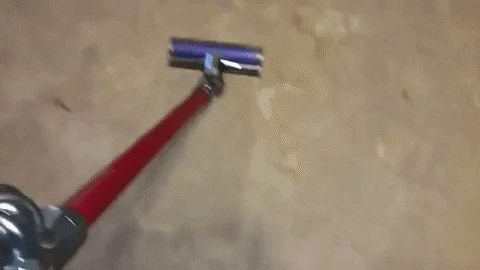 It is impressive because it picked up all the pet hair in one pass. Not all of it went in the bin, though.
A few strands got caught in the brush roll, and since it was easy to clean, it wasn't a big deal.
Upholstery performance
This machine comes with a mini motorized tool designed to pick up dirt and pet hair on upholstery.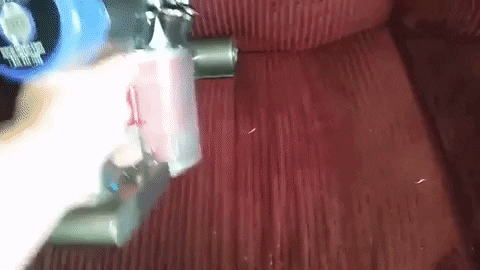 The brush on this tool has its motor, but the bristles aren't as stiff, so it won't clean as thoroughly. Pet owners will love this tool.
Product specifications
Feature
Attachments
Soft roller cleaner head

Direct-drive cleaner head

Mini motorized tool

Mini soft dusting brush

Combination accessory tool

Crevice tool
Brush roll on/off
No
Battery
22.2v Nickel Manganese Cobalt/Li-ion
Charger
Wall Mount Charger
Charging time
3.5 hours
Battery life
20 minutes (normal)
6 minutes (boost)
Net weight
5.1 pounds
Shipping weight
11.4 pounds
Cleaning path
9.8"
Overall length
47.5"
Battery indicator
Yes
Filter type
Lifetime washable filter
Dust capacity
128 ounces (0.11 gallons)
Air Watts
28 AW
100 AW (Max/boost)
Voltage
110v
Manufactured in
USA
Warranty
2 years on parts and labor
Customer reviews
For the most part, consumers love how this machine performed on both carpet and bare floor. The fluffy soft cleaner head does work great on non-carpet surfaces picking up all sorts of dirt from pet hair to fine dust.
The agitation produced from the direct-drive cleaner head works great on carpet. In the video reviews I've viewed and have shared with you, you'll notice that it will pick up most if not all of the dirt on the first pass.
The mini-motorized brush did well on upholstery picking up pet hair and embedded dirt, but it won't deep clean as well as the floor tool because the bristles aren't as stiff.
Some issues
Consumers complained about the short run time.
On max mode, it will run only for 6 minutes max. If you use it in normal mode, it runs for only 20 minutes. For some consumers, it was not enough.
There were also complaints about the filter falling off by itself, but there was only a handful of that complaint.
Recharging this will take 3.5 hours.
Another complaint would be the battery in which some claim can't be replaced, but you can replace the battery with the right tools and replacement batteries of the V6 abound in online stores like Amazon.
Overall this is an excellent product but very expensive, if you can afford it then buy it because it'll make cleaning a lot easier.
Where can I buy this?
You can buy the Dyson V6 Absolute from online stores like Amazon and Walmart. Please check the links below to see the latest price. Take note that if you purchase through any of these links, I will earn a commission but at no additional cost to you, so it's a win-win.
The verdict
This machine would be an excellent cleaner for a small homeowner looking for a compact and yet powerful vacuum that will handle dirt and pet hair on a variety of surfaces ranging from hardwood to carpet.
It comes with a tool specifically designed for bare floor surfaces called the soft roller cleaner head that will pick up larger bits of debris better because it does not have the same low profile base common to other vacuum brands.
Great on hardwood
It has performed well on hardwood based on video reviews thanks to the fluffy tool. Its design allows it to pick up larger bits of debris without plowing.
Another bonus is it has HEPA filtration that keeps allergens inside the dirt bin. But since this is bagless, there is still exposure to allergens.
Decent run time
Expect run time to be 20 minutes (6 minutes on the max setting), so don't expect this to clean a medium to large-sized home in one charge. The dirt bin is small, so expect frequent trips to the trash bin.
Overall this is an excellent product with some innovative tools introduced by the kings of innovation themselves – Dyson, but it comes at a steep price; however, if you can afford it, it is worth it.
This Entry Level Dyson Provides High End Performance But With Some Quirks
Ergonomics -

94%

Surface Cleaning -

95%

Quality -

90%

Design -

90%

Value -

92%
Summary
The Dyson V6 Absolute is one of the least expensive options that Dyson has to offer, but still performs like a high-end vacuum thanks to the above-average suction and agitation. One drawback to this variant is the lack of a hygienic system so emptying it will be a messy job. Overall, it is a good option for folks looking for a cheaper alternative to the more expensive V8 and V10 options.