We'll be looking at two of the more high-tech robotic vacuums in this comparison – the Ecovacs T8 AIVI and Roborock S6 MaxV.
These two variants are the most popular options with a front-facing camera and artificial intelligence for obstacle avoidance.
In simplistic terms, this technology gives it eyes to see objects and avoid them. But the question is, how good are these robots at such?
I've tested these robots extensively, and I'll share the results of the obstacle avoidance capabilities, plus other aspects such as cleaning, navigation, and more.
Ecovacs T8 AIVI
Power: 23 cfm
Run Time: 180 mins.
Deep Cleaning: 66.65%
Dust Cup: 0.42 liters
Multi-Level Maps: Yes
No of Maps: 2
*If you click this link and purchase, we earn a commission at no additional cost to you.
[toc]
Introduction to the Ecovacs T8 AIVI and Roborock S6 MaxV
Robot vacuums are divided into three main categories. First are the cheap robots that use laser sensors to help them avoid furniture and other objects. These options often utilize a random algorithm, so it just pinballs around.
Some newer releases add a gyroscope sensor, enabling it to navigate like a smart robot vacuum. However, it can't save maps and lacks advanced features like invisible wall and no-go zones.
The second type of robot uses laser and SLAM for navigation – the most notable brands are Neato and Roborock. These robots have LIDAR (the same one found in Google's self-driving car).
Using lasers gives these robots precision not found in cheaper robots. Functionality can vary depending on the model, but robots with LIDAR traverse around narrow spaces better than a random navigating robot.
Lastly, some robots use a camera and SLAM. At the forefront is iRobot with their highly popular Roomba 900, I, and S-series. Like LIDAR-based robots, VSLAM robots are efficient at navigating even complex layouts thanks to the camera sensor.
The Ecovacs T8 AIVI and Roborock S6 MaxV fall into the second category that uses a laser sensor.
But it has a wrinkle – a front-facing camera, paired with artificial intelligence, enabling it to avoid objects.
Ever since I've published this article: something new has come out – 3D front laser sensors. Check out my review on the Dreame Z10 Pro, Dreame L10 Pro, and the Ecovacs N8 Pro. It's a good alternative if you're wary of privacy issues that may stem from using a camera. Also, please check my comparison between the Roborock S7 and Ecovacs N8 Pro.
Ecovacs T8 AIVI: High Airflow Makes This an Excellent Hard Floor Cleaner
One of the biggest surprises for me was how much airflow the Ecovacs T8 had with 23 CFM! It's at par with high-end Roomba products like the S9.
This high airflow translates well on hard surfaces, where it picks up more debris after a single pass.
Even hard-to-clean stuff like sand won't be an issue with the T8.
However, the twin side brushes will scatter dirt if it has to clean a substantial amount. But for daily messes, this shouldn't be an issue.
In addition to vacuuming, the T8 can also mop floors. It comes with an electronic water tank similar to Roborock. But the mopping performance is a notch lower and didn't clean dried stains as well.
Ecovacs sells an upgraded OZMO pro pad with a vibrating feature similar to the Roborock S7.
Still, you don't need to purchase another robot to get this feature since it's compatible with the AIVI version.
Another advantage that Ecovacs has is the auto-empty system, which is again another add-on accessory.
It's a similar feature as the Roomba I7+ and S9+, where a second vacuum within the charging dock empties the dustbin's contents for you.
We earn a commission if you click this link and make a purchase at no additional cost to you.
Roborock S6 MaxV: Better Obstacle Avoidance
While Ecovacs has a one-lens camera, Roborock ups the ante and uses a twin-lens camera, providing a 3D perspective with how it sees objects.
Based on my tests, it avoids obstacles at a higher percentage rate, even with the stuff below its height threshold like this weighing scale.
Roborock also updates its algorithm more frequently, fine-tuning its obstacle-avoiding software and improving upon navigation.
Unfortunately, this technology isn't perfect and shouldn't be relied upon solely to avoid objects like wires.
It has improved since the launch, but not perfect.
Similarities between the Ecovacs T8 AIVI and Roborock S6 MaxV
Next, we'll look at the similarities between these two high-tech robots.
1. Obstacle avoidance capability
Both robots are equipped with a front-facing camera, giving them "eyes" to see potential obstacles.
This is paired with artificial intelligence, so it knows when to evade possible roadblocks.
Ecovacs has a single-lens camera, while Roborock's version has two lenses, providing it more visual depth.
2. Navigation
These machines use LIDAR and SLAM as their primary tools for navigation.
The cleaning pattern for both robots is similar – starting by going around the edges before moving towards the middle portion.
Both are adept at navigating through tight spaces without getting lost, thanks to the laser's precision.
One difference is Roborock has a third pass, something absent with Ecovacs.
3. Two-in-One Functionality
Not only do these robots vacuum, but both also have electronic water tanks for mopping stains. Roborock's water tank has a bigger volume (297 vs. 240 milliliters), which has a better range.
4. Multiple Map Saving
The Ecovacs T8 and Roborock S6 MaxV both can save multiple maps – two and four, respectively. Within each map, users can manually divide zones and name rooms.
Here's the cool part – both have a map detecting feature, so there's no need to choose the correct level manually.
5. Containment features
Another useful aspect these robot vacuums have is the containment features – invisible wall, no-go zones, and no-mop zones.
You can use any of these to block the robot from going into off-limit areas, and most homes will have it.
6. Carpet Boost
Both robots have carpet boost. So you can leave it at a lower power setting to conserve battery and only increase it when it detects carpet.
For Roborock and Ecovacs, this is a useful feature since both are excellent at picking up debris, even at the lower power settings.
7. Smartphone app
All the robots' functionality is found in the app – from saving maps to scheduling, setting invisible walls, accessing the robot's front-facing camera to what's happening, and more.
Differences between the Ecovacs T8 AIVI and Roborock S6 MaxV
1. Primary brush
If you look closely at both brushes, Roborock has denser and stiffer bristles than the T8. The higher density gives it the edge with agitation and why Roborock did better in the deep cleaning tests despite having lower airflow.
2. Side brush
Ecovacs comes with two side brushes, whereas Roborock only has one.
The twin side brush layout gives the T8 an edge with edge cleaning.
However, the S6 MaxV's single-side brush design scatters less debris, and the all-rubber construction provides better durability.
3. Dust bin
While both robots have a top-mounted dust container, Roborock has more volume with a 0.46-liter capacity – slightly larger than the T8's 0.42-liter capacity.
However, Ecovac's auto-empty system will negate any capacity advantage for Roborock. But it's a premium add-on that pushes the T8 close to Roomba S9 territory.
Ecovac's dustbin has a mesh and foam layer protecting the HEPA filter from direct dust exposure, so it should not get soiled easily.
Roborock doesn't have this layer, so its HEPA filter will get dirty faster, but it is washable, making it easy to keep clean.
The T8's filter isn't washable, so replacement intervals are shorter.
App features of the Ecovacs T8 AIVI and Roborock S6 MaxV
We'll go through some of the app features for both robots, and there are a lot.
1. Live map
Users will have access to a live map, where they can see in real-time the exact location of the robot, run time, and its precise whereabouts if it gets stuck.
2. Live camera view
There's access to the camera through the app, so you can see what the robot sees in case you're not home and want to see what's happening.
It's like a CCTV camera but from a robot's point of view.
However, Roborock's version is accessible through the main map view, while Ecovac's isn't.
So the S6 MaxV can vacuum and patrol simultaneously, whereas the T8 only patrols with the vacuum motor off.
3. Containment features
Both robots have containment features, providing users the option to block off-limit areas, and every home has zones that aren't safe for robot vacuums.
These include invisible wall, no-go zones, and no mop zones.
An invisible wall is a line you can draw on the app vertically, horizontally, and diagonally to prevent the robot from going past it.
The ability to set at various angles enables you to block any area. It's better than using an object to block the robot physically.
No-go zones and no-mop zones have similar functions – blocking the robot from a square and rectangular zone.
4. Map saving
One benefit of LIDAR-based robots is the option to save maps.
With these two, users can save multiple map levels, two for Ecovacs, three for Roborock. Though with Ecovacs, you can use three maps. However, the third isn't "saved."
5. Room naming
After the robot creates the map, the app automatically creates partitions and name rooms with these divisions.
If you're not happy with the partitions, merge them, then manually divide to your liking.
Roborock allows custom names, which means you can label it whatever name you choose.
For Ecovacs, this isn't possible but only select from a list.
6. Selective room cleaning
Once you're done with separating rooms within the map, selective room cleaning is possible.
It's now possible to select a particular area the robot will clean. You can choose multiple zones as well if that's a preference.
Roborock offers more customization as it allows users to adjust power levels per room.
For example, you can choose a higher power level for cleaning rooms with carpet and a lower one for areas with only hard surfaces.
7. Four power settings and water level preferences
Users have the option to choose between four power levels and water levels.
The lowest power setting is reserved for mopping to keep the noise level down and extend the run time to its furthest.
Since both robots use an electronic water tank, there's an option to select the flow level. For Ecovacs, I'd leave it in the second or third middle settings for the best results.
With Roborock, I'd go with the second-lowest setting as it's excellent for removing dried stains.
8. Auto Empty
This feature is only available with the Ecovacs T8 AIVI.
However, the auto empty dock is an add-on accessory you need to buy separately. It's a premium on top of the robot that would bring the cost near Roomba S9+ levels.
We earn a commission if you click this link and make a purchase at no additional cost to you.
9. Unlimited scheduling
For busy folks, this feature will be handy. Unlimited scheduling is available, so users can set as many runs as they wish at specific areas in their homes.
10. Maintenance
The maintenance tab gives users a heads up when to replace parts like the filter, side brush, and primary brush.
Please note that this is a time-based system, so it's still better to visually check these components if they need cleaning or replacement.
Airflow comparison
One of the biggest surprises in this comparison is the higher airflow number from the T8 AIVI.
It has as much as 23 CFM at the highest setting versus the 15.68 CFM of the S6 MaxV.
Check the table below for the complete results.
| Power settings | Ecovacs T8 AIVI | Power settings | Roborock S6 MaxV |
| --- | --- | --- | --- |
| Quiet | 8.2 CFM | Quiet | 7.9 CFM |
| Standard | 22.58 CFM | Balanced | 9.8 CFM |
| Max | 22.93 CFM | Turbo | 12.32 CFM |
| Max+ | 23.1 CFM | Max | 15.68 CFM |
These tests are done using an anemometer directly at the brush head. It's not a perfect test, but it's a good way to gauge the air velocity passing through the main brush.
Obstacle avoidance comparison
A big question mark for me before this comparison is which model is better at avoiding obstacles.
I've put these two through many tests to see how well each avoids objects and if there are potential issues.
The results were mixed. While each robot can avoid obstacles, there will be blind spots.
Ecovacs has more blind spots based on tests and avoided obstacles at a lower percentage than the S6 MaxV.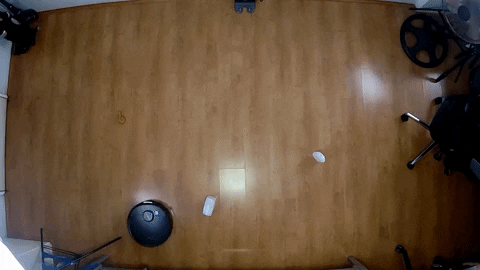 The single-lens camera could play a factor or the AI. Roborock avoided more obstacles and has a higher avoidance percentage.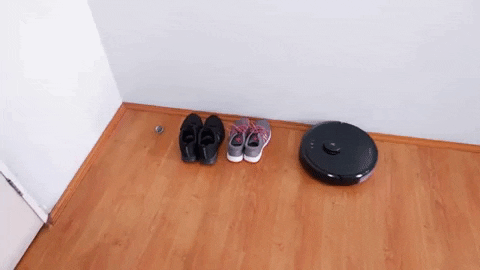 Another factor to consider is update frequency, which the S6 MaxV wins. I notice more frequent firmware updates.
Cleaning comparison
Next, we'll look at well these robots clean various debris types like quaker oats, quinoa, pet litter, sand, hair, coffee grounds, Cheerios, and more.
Here are the overall results for both.
| Roborock Model | Ecovacs T8 AIVI | Roborock S6 MaxV |
| --- | --- | --- |
| Overall | 90.11% | 93.9% |
| Hard Floor | 98.15% | 99.75% |
| Carpet (Surface Pickup) | 97.72% | 98.5% |
| Sand on Hard Floor | 99% | 99.7% |
| Carpet (Deep Cleaning) | 66.65% | 77.65% |
Despite the big advantage in airflow, the T8 lags behind the S6 MaxV in nearly all cleaning categories.
Two reasons. First is the brush roll design. I mentioned the T8 having softer bristles and the S6 MaxV being denser if you watched the video review.
Denser brushes help with agitation, especially on carpet, where the S6 MaxV did better on surface and embedded dirt.
Next, the T8 will only go around (a max of) two times versus the three passes of the S6 MaxV. More passes mean better thoroughness, especially on surfaces like carpet.
Lastly, Ecovacs' twin side brush tends to scatter more dirt when clumped together.
Which is better on hard surfaces?
The Roborock S6 MaxV had better scores overall despite having less airflow for reasons I've outlined above.
It did better even in the sand on hard floor test, picking up 99.7% vs. the 99% score of the T8.
This is despite the latter picking up more initially because of its premium-level airflow.
Please note that the tests I do are extreme, and the scattering issue shouldn't matter for daily tasks for stuff like dust or hair.
The high airflow will help the T8 clean dust and other contaminants on hard surfaces, especially underneath furniture with buildup.
Edge cleaning comparison
One advantage of Ecovacs' twin side brush design is its ability to pick up debris from the edges.
Look at this before and after photo.
And compare it to the S6 MaxV.
Can you see the difference?
The Ecovacs T8 almost picking every crumb on this area, whereas the S6 MaxV left a good chunk.
Hair wrap comparison
To check how well a robot vacuum resists tangles, I spread five and seven-inch hair strands and do a standard run.
The Roborock S6 MaxV more – 71% of the five-inch stands and 54% of the seven-inch strands.
In contrast, the Ecovacs T8 picked up only 37% for both five and seven-inch tests.
The softer bristles could be a reason why Ecovacs picked up less despite having more airflow.
Which is better on carpets?
Again, Roborock wins this comparison with a higher overall score in both surface and deep cleaning tests.
It picked up an average of 77.65% versus the T8's score of 66.65% in deep cleaning tests.
Even with surface debris, the S6 MaxV was better, with an overall score of 98.5% (vs. 97.72%).
Mopping comparison
These two also double as robot mops and come with electronic water tanks for the task.
I tested both on dried red wine stains I left overnight, and here are the results.
First, the Roborock S5 Max.
Next, let's look at how the Ecovacs T8 did.
The Roborock S5 Max did much better, leaving a cleaner surface with much less residue, whereas the Ecovacs T8 didn't mop as well. It left more residue and visible tire marks.
As I've said earlier in this article, Ecovacs sells an upgraded water tank, the OZMO Pro, with a vibrating pad that should do better, but it's a premium add-on.
Run time comparison
Both robots utilize a 5200 milliamp-hour lithium battery and run for up to 180 minutes in the lowest power setting.
Ecovacs is excellent in this area since its standard-setting (the lowest) is almost equal to the max+, so keep it at this level and rely on the carpet boost to automatically increase suction for carpet.
Roborock has lower airflow in balanced mode, but agitation is good enough to pick up stuff like dust.
Noise Comparison
| Power settings | Ecovacs T8 AIVI | Power settings | Roborock S6 MaxV |
| --- | --- | --- | --- |
| Quiet | 58.2 dB | Quiet | 58.1 dB |
| Standard | 61 dB | Balanced | 60.3 dB |
| Max | 66.6 dB | Turbo | 60.5 dB |
| Max+ | 67.1 dB | Max | 65 dB |
The S5 Max is the quieter option of the two, topping out at 65 decibels. In comparison, the T8 with its higher airflow has over 67 decibels at the highest setting.
Maintenance
As with all robot vacuums, these machines need maintenance to function well over the long haul. I'll list down the components that need cleaning or replacement.
Combo brush: One of the most abused parts of a robot vacuum is its main brush. Check this at least once a week to remove tangled hair around the bristles or axles to prevent unnecessary friction.
Side brush: Another part that gets a lot of wear and tear. Roborock's all-rubber side brush should last longer than Ecovac's more traditional bristled design. Clean this part once a week and remove any hair wrapped around the base.
Dustbin and filter: Empty the dustbin after every cleaning cycle to prevent dust mites from breeding. Roborock's HEPA filter is washable while Ecovac's isn't, so please take note of it. You'll need to replace the filter once every two or three months, depending on the accumulation. Tap it on a solid surface to remove any dirt on the folds.
Drop sensors: Use a clean, dry microfiber towel to wipe all the drop sensors.
Side and caster wheel: Dirt and grime will stick on these wheels, so use a clean microfiber towel to wipe these parts.
Front-camera: Check this part on occasion for any fingerprints or dust. Use a clean towel to wipe.
Availability of Parts
The growing popularity of Ecovacs and Roborock bodes well for parts availability in the aftermarket.
More and more brands are selling filters and brushes for both the T8 and S6 MaxV. Even bags for the auto-empty station are abundant and not expensive at all.
However, replacement batteries for both aren't available on Amazon. You'll have to check sites like AliExpress if it's available.
Product Specifications
Model

Ecovacs T8 AIVI

Roborock S6 MaxV

Width

13.7"

13.8"

Height

3.6"

3.8"

Filter

HEPA

HEPA

Navigation

Smart Navigation

Smart Navigation

Run time (Turbo mode)

180 mins.

180 mins.

Recharge and Resume

Yes

Yes

Map Saving

Yes

Yes

Number of Maps

2

4

Dustbin capacity

420 ml

460 ml

Water tank capacity

240

290 ml

Airflow

23.1 CFM

15.68
CFM

Warranty

1-year limited

1-year limited

Price
Where can I buy these robots?
You can buy the Roborock S6 MaxV and Ecovacs T8 on sites like Amazon. Check the links below for the latest pricing.
Disclaimer: I'll earn a commission if you purchase through any of the links above, but at no extra cost to you, so it's a win-win for us!
Which is better, the Ecovacs T8 AIVI or the Roborock S6 MaxV?
I was expecting a lot from Ecovacs when I first got it because of its high price tag.
The high airflow is nice, but the soft bristles and the lack of a third pass hinder it, especially on carpet, where it lags behind the S6 MaxV.
I like that it has a slightly lower profile design, and the high airflow makes it an excellent option for cleaning hard surfaces.
Ecovac's AI also lags behind Roborock's based on tests. It can avoid obstacles, but it has more blind spots and misses more than it avoids.
Roborock has more frequent app updates and is constantly fine-tuning its obstacle avoidance system.
5 Reasons to buy the Ecovacs T8 AIVI
Auto empty system: The option to buy the auto-empty station is probably the biggest reason to go with the T8 AIVI. However, this part doesn't come with the T8 unless you buy from Ali Express, so it's an expensive add-on.
High airflow: With around 23 CFM, the T8 has as much airflow as high-end Roombas like the S9. This translates well for cleaning stuff like sand on hard surfaces.
Lower profile design: The T8 is slightly shorter than the S6 MaxV, enabling it to clean under lower profile furniture.
Efficient navigation: The laser sensor and SLAM make this robot efficient at traversing even through tight quarters.
Feature-rich app: Ecovacs offers a feature-rich app with many of the same features as Roborock, such as selective room cleaning, invisible wall, no-go zones, map saving, auto room detect, and more.
5 Reasons to buy the Roborock S6 MaxV
Better Cleaning performance: Despite having lower airflow, the S6 MaxV is the better cleaning robot, with its brush having denser and stiffer bristles. It did better in both the surface and deep cleaning tests.
Superior obstacle avoidance: Roborock's twin-lens front camera and AI better avoided obstacles with a higher avoidance rate than the T8.
Option for a third pass: This feature gives the S6 MaxV better thoroughness, especially on carpet.
Better mopping: The S6 MaxV did much better at mopping dried stains, leaving fewer streaks and a cleaner surface.
More app features: The Roborock app has more features like saving more maps (4 vs. 2), more passes (3 vs. 2), and custom room naming.
The Verdict: Roborock S6 MaxV is the Better Option
While the T8 AIVI is an excellent product, the S6 MaxV is better at three critical areas – obstacle avoidance, cleaning performance, and mopping.
Plus, I like that Roborock updates its firmware more frequently, so I'm expecting it to be better over time with its AI and obstacle avoidance.
If there's one reason I'd go with the T8 – that would be the auto-empty station, but it's a costly add-on.
You can buy other brands like the Roomba I6 or I3 for less than the T8 for less, but those options don't have the obstacle avoidance or mopping feature the T8 possesses.