The Roomba 980 one of iRobot's flagship models right now.
It isn't the latest, but it's still one of the top performing robot vacuums available right now.
With the recent release of the Roomba I7 to the market, the prices of the 980 have gone down significantly since it was introduced.
If you don't want to spend over $900 for the top-of-the-line I7, this is a good option. It won't clean the bin for you or remember your home's layout, but you'll save a few hundred bucks.
In 2013 iRobot introduced the Roomba 880 that ditched the bristled brushes.
However, it still uses the same random navigation and NiCad batteries that limit its potential.
With the new Roomba 980, iRobot has upgraded the navigation and the batteries to boost the performance of this already excellent performing robot.
No more remote
Also, this robot does not come with a remote. In its place is WiFi connectivity and app, so you'll be able to use it to control the robot remotely. Yes, you'll have access to this robot even when you're not at home.
Related: Find out how the 980 is different from the 880 and the Roomba 960 and see if it's worth the price difference.
The battery also gets an upgrade. It now comes with a newer lithium-ion battery that'll last longer against the NiCad battery. Not only will it last longer, but it'll also run longer.
Let's look closely at these upgrades if they are worth the premium price.
A quick look at the features of the Roomba 980
Instead of using a random cleaning pattern, the 980 uses a more predictable grid-like pattern similar to that of a Neato
Comes with an app that lets you schedule and controls this robot anywhere using your smartphone
Lighthouses have a new sleeker design with cheaper AA batteries
Newer lithium-ion batteries will run for 2 hours
Has cliff sensors (same sensors as the old Roombas)
After the battery runs out, it will automatically return to its charging station to recharge and continue where it left off
Pros
Uses a more predictable and efficient back and forth cleaning pattern
Wifi connectivity ditches the remote control
The lithium-ion battery will have a longer service life compared to the NiCad equipped Roomba 800 and 700 series
Lighthouses aren't as bulky and use cheaper AA batteries
Has HEPA filtration
Cons
What To Expect From The Roomba 980?
With their rivals going the cloud route namely the Dyson 360 and the Neato BotVac Connected, iRobot had to come up with a similar feature or risk getting left behind hence the Roomba 980 was released a few months after their rivals.
At the heart of this robot cleaner is a new navigation system called the iAdapt 2.0 that uses a more predictable back and forth cleaning pattern that all Neato robots have used (more on that later on).
And instead of using a remote control, iRobot has developed an app that allows you to schedule cleaning using your smartphone.
Here's how the app looks.
Image courtesy of CNet.
The app allows you to schedule the exact time the robot will clean your home (Roomba allows you to schedule up to 7 times per week).
It also gives you access to advanced cleaning options with just a few taps. It also shows you the status of the robot whether it's in the middle of a cleaning cycle or returning to the charging station for refueling.
However, it does not give you the status of the battery which I hope they'll include in future app upgrades.
Navigation
iRobot has wholly redesigned the navigation system of the 980, instead of relying on just infrared signals to detect obstacles, this robot uses a combination of IR sensors and an onboard camera to track its location plus the iAdapt 2.0 navigation that utilizes the Simultaneous Localization and Mapping algorithm or the SLAM.
It allows it to have a more predictable grid back and forth pattern – similar to what the Neato uses.
This feature improves the Roomba's efficiency and lessens the chance of it missing spots here and there.
It also speeds up the cleaning time and maximizes the 2-hour run time from the new lithium-ion batteries.
The cameras also detect the presence of obstacles, and it tells the Robot to avoid them instead of bumping into them.
Here's a long exposure shot of the navigation:
Image courtesy of CNet.
Here's a video from iRobot which summarizes how the new navigation system works:
Compared to the previous Roombas the 980 cleans more efficiently thanks to the more predictable cleaning pattern.
Bare Floor Cleaning
This machine would be great on cleaning dust-prone hardwood surfaces where constant vacuuming would be a chore. With a low profile height of just 3.6 inches, it would be able to clean under most furniture like beds where dust can quickly accumulate.
In the rice test done by CNet, the Roomba 980 came in 4th behind the BotVac 85, D85, Roomba 880 and Samsung Powerbot VR9000.
It slightly outperformed the Roomba 880. In the sand test which is denser thus harder to clean than dust, the 980 came in only fifth.
Check out the graph below to see the rankings.
Here's a video demonstration on how it did on carpet cleaning small pieces of paper…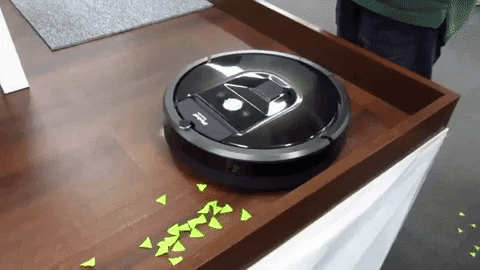 Carpet Cleaning
On carpet, the results were roughly the same. The 980 just could not outperform the Roomba 880 and even the BotVac 85 that ran away as the best performing all around robot vacuum out of the 6.
It did reasonably well in terms of picking up rice and particularly on a mid-pile carpet.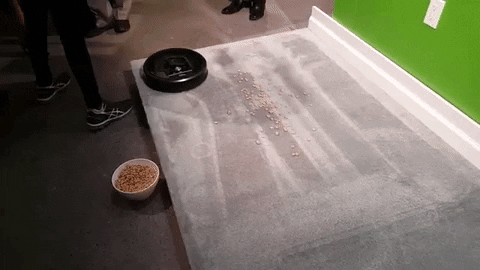 You'll notice that the side brushes will fling large debris like cheerios, but it was able to clean a majority of it but didn't get it all in one pass. I show this to you to show you how it performed in extreme conditions.
Pet Hair Removal
For the pet hair test, Roomba ranked in the middle of the pack with surprisingly better performance on medium pile carpet where it came in second in picking up pet hair behind the Botvac D85. It also outperformed the 880 at least on carpets.
Will it Clean Stairs?
Unfortunately, there no robotic vacuum in the market right now that can clean stairs. You'll need a stick vacuum for that.
Scheduled Cleaning
You can schedule this to automatically clean your home up to 7 times per week or once a day. You can schedule it using the app that you can download on your smartphone.
Charging Time
iRobot does not specify how long it will take to charge the batteries fully.
Maintenance
Take note that you can't wash the HEPA filter in the Roomba 980. The best thing you can do is use a handheld to vacuum dirt. But you'll have to replace it after 6 to 12 months.
Make sure you wipe all the sensors before reinstalling the dirt bin back.
The side brushes also take a lot of beating and will gather debris, particularly pet hair. To maintain the performance side brush performance.
Don't forget to clean the camera and other sensors using a clean microfiber towel lightly dampened with water.
Run Time
When fully charged, the lithium-ion battery will give roughly 2 hours of run time. With the more efficient and predictable cleaning pattern, this robot should be able to clean around 120 square feet.
Warranty
Roomba vacuums come with a 1-year warranty on the robot and six months on the battery.
Product Specifications
Battery type
Lithium Iion
Charger type
Charging Station
Charge time
N/A
Run Time
2 hours
Doorsill crossing
up to 1.5 cm
Net weight (with battery)
8.7 pounds
Shipping weight
13.7 pounds
Diameter
13.8 inches
Height
3.6 inches
Multi Room

Self docking

Remote control


* You can download an app to your smartphone
Hepa filtration

Cliff detection

Self adjusting

Edge brushes

Full bin indicator

Stair Cleaning

Cleaning sessions per week
7
Extra Filter
1
Containment
2 virtual walls (AA batteries are included)
Brush cleaning tools

Accessories included
1 Home Base Charging Station

1 Rechargeable Battery

1 Line Cord

2 Dual Mode Virtual Wall Barriers (batteries included)

1 Extra Filter

1 Extra Side Brush
Voltage
110v
Manufactured in
China
Warranty
1-year on robot
6-months on battery
Other Roomba Comparisons
Roomba has a bunch of models in their product line. Find out how each one contrasts with the other plus also comparisons with other brands like the Neato.
What do consumers say about the Roomba 980?
Consumers who purchased or received a free product for review (the Amazon Vine program) said that this robot cleaner has excellent suction. They especially liked how the carpet boost function that increases suction on carpet – similar to that of the Max function in a Dyson cordless vacuum.
In terms of cleaning performance, consumers say it did well with pet hair and light dusting, but for larger debris, the side brushes will fling some of those around.
Rug tassels could be a potential problem as it could get stuck in between the extractors so you'll have to fold these away or remove the rug.
The app is easy to set up
Most of the consumers say that they didn't have any trouble connecting the Roomba app to the robot itself but take note that it is only compatible with 2.4 GHz networks. One consumer complained about this limitation saying that they should have also made it compatible with 5 GHz networks.
The app itself is pretty basic and based on reviews you can schedule cleaning times from anywhere as long as there is an internet connection.
It'll send you a notification if the bin is full. Here's the neat thing, the app also tells whatever maintenance is required like cleaning the extractors.
Better navigation
Compared to the older 800, 700 series models the navigation of the 980 is much better thanks to the more predictable back and forth cleaning pattern.
The new navigation system will save a map of your room in its memory and will "remember" the obstacles and shape of the room.
This, in theory, should make this a more efficient cleaner and miss fewer spots. But consumers say that it is methodical in the way it cleans which means it is slow. It could be a good thing because it will pick up more dirt.
But it still uses the same cliff sensors so it will not be able to go over a black carpet.
Since this robot comes with a camera, it'll have trouble navigating in a dark room. Anything that uses a camera needs light to function.
There are still complaints about this robot not being able to return to home base and getting lost so you'll have to do your part and prepping the room (e.g., removing obstacles and wires) to maximize any robot vacuum.
The steep price tag turned off some and whether or not it will be worth it will depend on your preferences. If you're busy and need a helping hand with your floor cleaning, then this would be a huge help.
Should I buy the Roomba 980?
The Roomba 980 is a great option for homeowners looking for a smart robotic vacuum capable of cleaning a large home with carpet.
It has the iAdapt 2.0 navigation that uses a camera and VSLAM to help it map out and pinpoint its exact location.
This feature allows it to go back where it left automatically after recharging. The Gen 3 motor also provides it with more power versus the Roomba 960.
You should buy this robot if you:
Need a robot with an extended run time: The Roomba 980 will run for up to 120-minutes which will cover around 120 square feet.
Have carpet at home: The Gen 3 motor provides five times more powerful than the Roomba 960 and will do a better job on carpet thanks to the carpet boost mode.
Need something compatible with Alexa: This robot is compatible with devices like Alexa just in case you prefer using voice-activated commands.
Learn more about the Roomba 960 on Amazon.
Where can I buy this?
The best price to buy this would be in Amazon where you can buy this for just under $850, and you get Free Shipping.
When you purchase this direct from iRobot, expect to pay close to $900, but if you are an Amazon Prime member the price goes down by almost $40, yes even if you register with a free trial you can still get that discount.
The verdict: Is the Roomba 980 worth price?
This robot is a huge step forward in terms of integrating cloud-based technology into appliances.
The app-based control panel is a massive upgrade over the IR based remote controls that limit range.
iRobot also improved the navigation in their latest product, adding a camera sensor and moving away from the random cleaning pattern that made the old Roombas inefficient in terms of cleaning.
But are these improvements worth the $800 price tag you'll pay for this?
In terms of performance, the Neato Botvac 80 series still wins in terms of overall cleaning performance. But it doesn't come with the gadgetry as the Roomba.
So you'll have to think long and hard whether or not the high tech improvements of this will be worth the extra $$$ that you will have to pay.