Over the past five years, I've seen a boom in cordless vacuums. Even manufacturers like Miele and Bissell, formerly known for their bagged vacuums, have also released bagless and cordless products.
It clear these brands are trying to catch a piece of this multi-billion dollar industry.
While most copy Dyson's framework with all the bells and whistles, this brand does the opposite.
Instead of going high-tech, Lupe Pure's founders have chosen the path of simplicity and longevity, doing away with non-essentials, focusing only on what matters most, which is cleaning performance.
Game Changer or Pretender?
Lupe Pure Cordless Review
You won't see any fancy LCD screens or bright LED headlights, but Lupe offers excellent all-around performance from its patented counter-rotating brushes. There's no need to change the cleaning head for every transition as one tool does the job. The modular design makes it easy to clean or replace components. And Lupe is committed to providing spares through their website – longevity is a high priority.
*If you click this link and make a purchase, we earn a commission at no additional cost to you.
Pros
Patented cleaning head design provides an excellent seal.

This seal enables it to pick up debris well – large and small.

Deep cleans carpet well.

Light handle weight – won't strain your wrist during extended use.

One liter dustbin bin capacity

Self-standing design

Availability of parts

Removable battery
Cons
Noisy – breaches the 80-decibel mark in the highest setting

Some leaks in the fog test
[toc]
Introduction to the Lupe Pure Cordless Vacuum
Most cordless vacuums you'll see copy Dyson's design – dustbin and motor on top and trigger switch.
One issue with this design is the top-heaviness. Using these products for longer stretches can fatigue your arms.
Lupe does not have this issue with the motor and dustbin close to the base. Whereas V11's handle weight is 1.84 kgs (or over 4 pounds!), Lupe's handle weight is only 0.16 kgs (or 0.35 pounds). In other words, it's feather-lite. You'll barely feel it, which makes a more comfortable for extended use.
I'll go through each of the features.
Cleaning head
Unlike other brands that use a separate cleaning head or brush for carpets and hard floors, Lupe utilizes only one.
They can this the "Patented Suction Intensifier Technology."
It's a combination of a roller and standard brush roll, like Shark's Duo Clean technology. But the main difference is the front roller. Unlike Shark's version with a rigid core, Lupe's version is malleable, enabling it to adapt to the surface's contours.
This malleability provides an excellent seal, especially on hard surfaces. Look at this clip how well Lupe picks up debris on hard floor and carpet.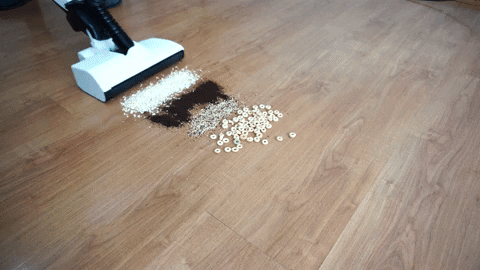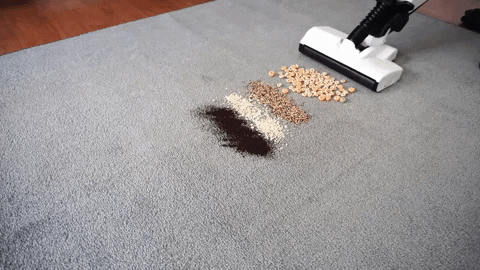 You'll literally feel the seal on hard floors. Even without pushing, the head propels itself forward. There's also friction when steering it – that's the seal at work.
In both clips, you'll see it made a clean pass. Nothing gets past it, even on carpet.
Both the roller and brush components are removable. You'll need a coin to twist the locking mechanism on the side.
The option to remove these brushes makes it easier to maintain and clean. And if these parts wear out, Lupe makes them available through their website.
Versatility
Another aspect I like about Lupe is its versatility. You can use it in several configurations.
First, you can use it in its default upright configuration. It's slightly taller than the Shark ION P50, at a little over 48″ tall.
Not only that, but you can also use it as a canister vacuum with the wand attached to any of the two above-floor tools.
Unfortunately, you cannot use the main nozzle in this configuration.
Lastly, this vacuum is usable as a handheld.
It is not as compact as a traditional handheld vacuum, but the stretchable hose and the cord-free feature make this vacuum portable.
Dustbin and Filtration
One significant benefit of an upright design is the larger dustbin capacity. Lupe can hold up to 1 liter of dry dirt – up to the fill line.
It has three levels of filtration – foam covering, pre-motor filter, and a post-motor HEPA filter. All these are washable and should last the lifetime of the vacuum.
I'd buy an extra (at least one) set of these filters to eliminate downtime waiting for it to dry.
One test I put all vacuums through is the fog test. This reveals if the vacuum has a sealed system.
The test reveals some leaks at creases around the HEPA filter.
I like the wide opening, making it easy to dispose of dirt.
Washable
Lupe's dustbin bin is washable with a detachable mesh filter, making it easy to rinse debris sticking on the inner frame.
Make sure to wait for it to dry before reattaching on the vacuum.
Battery and Run Time
Lupe utilizes a 9 Murata high drain, high capacity lithium-ion battery with a claimed run time of 60 minutes in eco mode.
There are three power modes – low, mid, and high, plus a brush roll low and high setting. So there is a total of six power settings.
I tested how long Lupe will run in each of the settings, and here are the results.
| | Hard floor | Carpet |
| --- | --- | --- |
| Low | 60 mins. | 47:47 mins. |
| Mid | N/A | 31:15 mins. |
| High | N/A | 14:16 mins. |
Please note that Lupe's default mode is the middle setting. So you'll have to press the plus or minus buttons to toggle the max or eco setting, respectively.
Interface
One defining aspect of Lupe is its simplicity. You'll see this in its interface. Instead of using a fancy LCD screen, they kept it simple with four buttons – power, plus, minus, and brush roll high/low.
I believe Lupe did this to keep costs down and take out unnecessary weight to make this vacuum as light as possible.
There are no controls on the handle. But the buttons are high enough, and there's no need to bend over too much.
Ergonomics and Maneuverability
Lupe excels in this area with its lightweight design and responsive steering. Another product I tested with a similar design is the Shark ION P50, and Lupe feels lighter.
It can turn at a sharper angle than Shark. However, the high suction and seal creates more friction that you'll feel steering this vacuum around furniture.
How much power does the Lupe Pure cordless have?
One tool I use to measure suction is an anemometer that I stick at the cleaning head to measure airflow.
Here are the results with the brush roll at high
Low: 21.94 CFM
Mid: 27.76 CFM
Max: 42.38 CFM
And brush roll at low.
Low: 22.29 CFM
Mid: 28.05 CFM
Max: 43.06 CFM
There isn't much of a difference between the brush roll high and low settings. I'd keep it at high as it provides the best compromise for debris pick up.
Take note that airflow and suction are different. Airflow is the amount of air turbulence that passes through, while suction requires another tool to measure.
Cleaning Performance
I tested Lupe Pure on various types of debris, from fine sand to large bits of Cheerios.
Here are the overall scores:
Overall: 99.65%
Hard floor: 99.6%
Carpet (surface): 99.82%
Deep cleaning: 99.9%
Sand on hard floor: 99.3%
The results show more or less an excellent all-around pick up on hard floor and carpet. It did well in all the tests, not excelling in one particular area.
One surprise for me is how well Lupe did at picking up surface dirt on carpet with numerous 100% scores.
Hard floor results
Quaker oats: 100%
Coffee grounds: 99.2%
Quinoa: 100%
Pet litter: 99.2%
As expected, Lupe did well on hard floors with a near-perfect 99.6% score. There weren't any problems picking up different debris types like quaker oats, coffee grounds, quinoa, and pet litter.
Though, you'll have to use the middle setting for heavier items like pet litter to clear the suction chamber.
Sand on hard floor
One of the toughest items to clean on hard floors is sand. To check how well Lupe handles it, I scattered 50 grams worth on a test area.
It was able to pick up an average of 99.3% in two tests, picking up most of the finer particles.
Even with the eye test, Lupe managed to pick up most of it in the forward pass.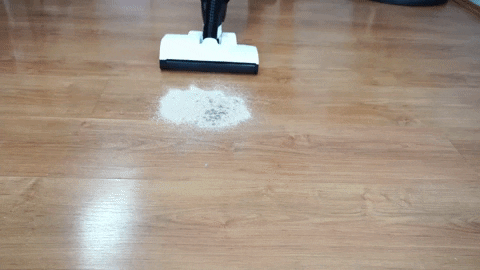 Edge cleaning
Another area where Lupe did well is edge cleaning. For this experiment, I scattered coffee grounds on a corner of my home office. It also has a quarter-inch crevice, so it doubles somewhat as a crevice tet.
Here's a before and after shot.
As you'll see, it did quite well, picking up most of the coffee grounds. I like its efficiency as it only required minimal passes to achieve this result.
Again, this shows the excellent seal the cleaning head possesses.
Hair wrap
One area most cordless vacuums struggle with is cleaning long strands of hair, especially options with narrow brushes.
So I tested how well Lupe does, and it surprisingly did well considering it doesn't have any anti-tangle system.
During the initial testing phase, I was planning on doing tests for five and seven-inch strands. Lupe did well for both, so I decided to add a nine-inch hair strand test.
5-inch (one gram): 0.82 grams (or 82%) inside dustbin, 0.18 grams (or 18%) around the brush
7-inch (one gram): 0.98 grams (or 98%) inside dustbin, 0.02 grams (or 2%) around the brush
9-inch (one gram): 0.78 grams (or 78%) inside dustbin, 0.22 grams (or 22%) around the brush
Here are some before and after shots for the 5-inch test.
7-inch test.
And 9-inch test.
These tests reveal Lupe can resist tangles up, but it doesn't mean hair won't wrap around the brush. It means less hair will wrap around, so there's less maintenance needed.
The ability to remove the roller and brush components makes it easier to clean.
Low pile results
Quaker oats: 100%
Coffee grounds: 98.6%
Quinoa: 100%
Pet litter: 100%
Lupe had excellent scores overall on low pile carpet, scoring 100% on three of the tests. It struggles most with coffee grounds on this surface, but it still picked up a very high amount.
Mid pile results
Quaker oats: 100%
Coffee grounds: 100%
Quinoa: 100%
Pet litter: 100%
Surprisingly, Lupe did its best on mid pile carpet with 100% scores on all four tests. Please note I used the max setting when cleaning coffee grounds after the few initial passes, which is why it picked up 100%.
Deep cleaning test
Next, we'll look at the deep cleaning results where I rubbed 100 grams of sand on mid pile carpet. I did several tests with the power at max and middle to see how much it picks up.
In the max setting, Lupe picked up an average of 99.8% at max and 92.8% in the middle setting.
It's much better than the Shark ION P50 with a similar brush set up by more than 20% (70.2%), even in the middle setting.
So Lupe will deep clean better for more extended periods.
How Noisy is Lupe Pure?
I use a sound meter to measure noise levels. Lupe isn't a quiet vacuum. Check out the results below.
Low: 74.6 dB
Mid: 78.4 dB
Max: 81.7 dB
Even in the lowest setting, it's quite loud. My 8-year old son didn't like the loudness, which gives you an idea. In the highest setting, it breaches the 80-decibel mark, which means you can't have a decent conversation with this vacuum running.
Tools and attachments
Out of the box, you'll get these items.
Lupe Pure Cordless vacuum

Main cleaning nozzle

Lithium-ion battery

Charger with plug options for UK, US, and EU sockets

Detachable wand

Crevice tool

Upholstery tool

On-board mount
I like the onboard mount because it reduces the risk of misplacing attachments. Clip it on the handle, and it stores the crevice and upholstery tool neatly. Unfortunately, it doesn't have a locking mechanism, so the tools are held by friction. There's a risk of it dropping as you vacuum, so it's something to keep in mind.
Availability of Parts
You can purchase Lupe parts at their website. These components are currently not yet in stock, but it should be available when they get manufacturing in step with demand.
Product Specifications
Model
Lupe Pure Cordless
Brush roll on/off
No
Battery
9 Murata high drain, high capacity Li-ion
Charging time
3.5 hrs.
Battery life
up to 47 mins.
Net weight
10.14 lbs.
Width
10.2"
Overall length
45.25"
Battery indicator
Yes
Filter type
1 Foam (washable)

1 Pre-motor (washable)

1 HELP filter (washable)
Dust capacity
1.0 li
Airflow
Up to 43 CFM
Cordless
Yes
Bagless
Yes
Warranty
2 yrs.
Price
Check Price
Where can I buy the Lupe Pure Cordless?
You can buy Lupe directly from their website. Check the link below for the latest in pricing.
Disclaimer: I'll earn a commission if you purchase through the link above, but at no extra cost to you, so it's a win-win for us!
Does the Lupe Pure Cordless provide excellent value?
Despite the high price tag, Lupe brings a lot to the table. This vacuum is designed with a long view in mind with its easy-to-disassemble modular framework.
Cleaning performance is excellent and one of the best all-around options for cleaning hard floors and carpets.
The beauty of Lupe is there's no need to change nozzles. One head does the job and is well enough for whole-home cleaning.
It may not run the longest, but purchasing more batteries easily extends the range.
Build quality is excellent, with all the components locking into place with a quick-release latch.
4 Reasons to buy the Lupe Pure Cordless
Excellent seal: Lupe's suction intensifier makes sure no debris gets past the nozzle, even in the forward pass.
Above-average capacity: The one-liter dustbin capacity reduces the need to empty the dust container frequently.
Lightweight design: This vacuum is built with ease of use in mind. The handle weight is the lightest I've tested (less than 0.5 lbs), making it the least tiring to use for long stretches.
Easy to clean: The modular design makes this product very easy to clean. Parts like the brush roll easily come off without the need for special tools, making upkeep straightforward.
The Verdict: Excellent, Versatile All-Around Vacuum for Long-Term Use
I've tested many cordless vacuums that won't last past their warranty, mainly due to the lack of replacement components, or worst it's no longer in production.
So it's refreshing to see a manufacturer dedicated to rectifying these issues by committing to producing a high-quality product, high-end performance, and parts availability.
Lupe is founded on these principles, and only time will tell if these will hold up. Early returns are encouraging, and from what I've seen testing this product, it looks promising.
The product isn't perfect and has some improvement points like the filtration and run time, but the overall quality and performance are excellent—one of the best I've tested all around.
Excellent All-Around Cordless Upright for Hard Floor and Carpet
Ergonomics -

97%

Surface Cleaning -

99.58%

Deep Cleaning -

99.9%

Quality -

95%

Design -

94%

Value -

91%
Summary
This product is one of the better all-around products I've tested that cleans hard floor and carpet equally well. In cleaning tests, it scored higher cleaning surface dirt on carpet with a better average than a Dyson V10 and V11, which not many brands can boast. It lags behind a little bit with deep cleaning tests, but the gap is narrowing. Combine the performance with its modular design, and availability of parts, makes this a compelling option long term since Lupe says this is their vision.