One of the most unique stick vacuums I've tested is the Shark ION P50.
Unlike other stick vacuums with the motor and dust cup on top, the ION P50 has it near the base, making it more comfortable to use when cleaning floors as most of the weight is at the bottom.
The design allows the P50 to have a larger dirt capacity (more than 2 liters!) than most other stick vacuums making it ideal for cleaning larger spaces.
An Excellent Option for Hard Floors
Shark ION P50 Review
The Shark ION P50 has the capacity of an upright vacuum with the reach of a stick vacuum thanks to the Powered Lift-Away system that gives consumers the flexibility to use it in different configurations. In its default mode, you can use it as an upright vacuum that's highly ergonomic on floors. Unlike the Dyson V10 or V11, that's top-heavy, the P50 is not since the motor and dust cup is closer to the base. It has the Duo Clean system, which, in my tests, is one of the best options for cleaning hard floors. It also works well on carpets since it has the standard brush (behind the soft roller) with stiff bristles.
*If you click this link and make a purchase, we earn a commission at no additional cost to you.
Pros
It is not as top-heavy as other stick vacuums, making it easier to use on floors over extended periods.
The large dust cup holds more dirt than a typical stick vacuum.
Superb run time – will run for as much as 50 minutes.
It has the lift-away feature providing consumers a lot of options for cleaning different areas in their homes.
The fully sealed system keeps fine allergens inside the dust cup.
Cons
It doesn't have as much in terms of attachments.
The hose is a bit too short and doesn't offer a lot when it comes to range.
All the extra attachments don't have a quick-release latch.
What to expect from the Shark ION P50?
I've tested most stick vacuums for this blog utilizing a similar design to a Dyson cordless with the motor and dust cup situated up top.
The Shark ION P50 is different as these components are near the base. This design helps lighten the weight on the handle and makes it easier on the arm and wrist.
Essentially, the P50 has the design of an upright vacuum, so it has more dirt capacity than a typical stick vacuum.
Using this cord-free product on floors for extended periods won't be as tiring with the low center of gravity and swivel steering.
Powered Lift-Away
One of my favorite features of the ION P50 is the powered lift away. This feature enables consumers to use this product in different modes.
The powered lift-away feature is the option to remove the dust canister from the body while still using the main nozzle.
1. Upright mode: This is the default setting of the P50. Using it in this configuration is like using an upright vacuum.
2. Stick mode: One issue with most upright vacuums is its inability to go deep under furniture. The ION P50 solves this by separating the canister from the vacuum in its stick mode. This configuration takes away the dust canister, freeing it up from the bulk and allowing the main nozzle to clean under low profile furniture better.
3. Handheld mode: You can also use this vacuum as a handheld by removing the extension tube and attaching the tools directly to the handle. I like this configuration for cleaning upholstery inside the home or vehicle.
Duo Clean System
One of the best innovations introduced by Shark is the Duo Clean brush roll. Unlike other brands that use the soft roller and bristle brush separately, Shark combines these two components to create a tool that will work great on various surfaces.
The most significant advantage of using this tool is that there's no need to change floor nozzles on every transition regularly.
You can use this single tool for cleaning rugs, carpet, or hard surfaces.
LED Headlights
To add further to the usability of the Duo Clean head, Shark adds six bright LED bulbs in front.
These LED bulbs illuminate the path in front and help track stuff like dust underneath furniture.
If you have not used a vacuum with LED headlights, I believe it will help a great deal in cleaning homes.
Fingertip controls
Shark makes it easy for consumers to toggle between different cleaning modes thanks to the handle's fingertip controls.
Three different settings include hard floor, carpet, and boost. The two brushes spin most conservatively in the hard floor setting.
In the carpet setting, the brushes will spin at a faster rate, thus increasing the level of agitation.
The boost setting increases airflow to help pick up dirt on more plush carpets.
Please take note that on the boost mode, you'll have to press the button continually, at least when using the vacuum in its upright or stick vacuum configuration. Still, in the handheld setting without the extension tube or main nozzle, it automatically goes into boost mode.
Removable Battery
The P50 uses a removable 28.8-volt ION power cord battery that you can charge directly on the vacuum or separately with a portable charger.
This battery is massive and a big reason why Shark was able to squeeze that much run time. It does add to the weight of the vacuum. But since it is at the lower portion, it doesn't affect the ergonomics as much.
Being removable makes it easy to replace the battery just in case it breaks down. You can purchase an extra battery if you feel like the 50-minute advertised run time is too short.
The option to charge the battery separately will help minimize downtime if you have an extra battery.
How long does the battery run?
Shark says the ION battery will run for up to 50 minutes. To test if this figure is accurate, I ran the vacuum using the different power settings until the battery is empty.
Here are the results:
Carpet Mode with Duo Clean Head: 23 minutes and 17 seconds
Hard Floor Mode with Duo Clean Head: 32 minutes and  13 seconds
Handheld mode (low): 56 minutes and 19 seconds
Handheld mode (boost): 19 minutes and 4 seconds
The results with the Duo Clean head aren't great, but considering the efficiency of the Duo Clean head at picking up debris on carpet and hard surfaces, it is still decent.
In the cleaning tests I did, the dual brush system that Shark uses doesn't require many passes to pick up dirt so that it can cover a lot of ground.
In its handheld setting, it exceeds the 50-minute claimed run time by 6 minutes.
Dust Cup Capacity
One feature I like with the ION P50 is the extra-large dirt capacity. Shark says it can hold up to 0.54 gallons of dry dirt, which is up to the fill line. Convert it to liters, and it translates to a 2.044-liter capacity, which more than doubles the capacity of the Dyson V11 and that of the Hoover Linx Signature Series.
The beauty of the P50 design is how easy it is to empty the contents. Most of the dirt will stay at the bottom and won't stick on the filter in the middle since it is so narrow.
Even if it lacks the hygienic system, there's so much working room that, frankly, it doesn't need that feature.
Once the trap door opens, most of the dirt, yes, even dust, comes out with just a little shaking.
The dust cup assembly is washable since there are no electronic components inside.
Aside from the trap door, you can also open it from the top, making it easier to do a thorough clean when needed.
Anti-Allergen Complete Seal
The anti-allergen system ensures that fine allergens and dust stay inside the bin.
This variant comes with two filters, a pre-motor foam and a post-motor HEPA filter, to ensure that the air doesn't get polluted with the stuff you clean.
Take note that only the foam filter is washable, and the HEPA is not. However, you can extend the HEPA filter's service life by cleaning it regularly using a handheld vacuum with a brush tool.
Self-Standing
One of my favorite features of the ION P50 is the self-standing feature that helps store storage.
It doesn't need any third-party device or a dock that you need to bolt-on the wall to store vertically.
How much power does the Shark ION P50 have?
Unfortunately, manufacturers don't have a uniform spec that discloses power. Some use watts, while others like Dyson use air watts. So it isn't easy to compare across different brands which have product has more power.
Fortunately, some devices help measure vacuum suction. One of which is an anemometer that measures airflow.
On the Shark ION P50, I measured airflow in two areas – at the wand and direct on the main cleaning head.
First, let's look at the results in different settings.
Airflow measured at the nozzle:
Floor: 24.8 CFM
Carpet: 21.77 CFM
Floor (Boost): 29 CFM
Carpet (Boost): 27 CFM
Airflow at the wand
Normal: 31.37 CFM
Boost: 46.27 CFM
The airflow numbers are just about average when you compare it to other stick vacuums. But the design of the Duo Clean head doesn't require much airflow to be effective at all.
If you look at the information above, the "floor" setting yields a higher airflow number than the "carpet" setting, both with the "boost" and "normal" modes.
I also noticed that Shark decreases the brush roll speed on the "floor" setting and increases it with the "carpet" setting, thus improving agitation, which is why the excellent test result figures.
How does the Shark ION P50 clean?
Realize that the Shark ION P50 is primarily a floor cleaning tool.
Everything from the dust cup, motor, and the Duo Clean head placement aims to provide an excellent user experience when cleaning large floor areas.
The powered lift away system enables this vacuum to reach further underneath furniture than any upright vacuum without this feature.
One advantage that the Shark lift-away system has is its ability to get completely flat without having to turn the body sideways, as would be the case for products like the Dyson V8 and Tineco A11.
Since the canister is out of the way, there's nothing to hinder the main cleaning head.
Central to the cleaning prowess of the P50 is the Duo Clean nozzle that combines a soft roller and bristle brush.
This tool is excellent for cleaning dry dirt on any indoor surface such as tile, carpet, rugs, hardwood, etc.
The huge clearance upfront means that cleaning extra-large stuff like Fruit loops won't be an issue.
Unlike tools that only have the soft roller, the Duo Clean can also fully clean carpet thanks to the second brush with stiff bristles.
It won't be as good as a Dyson V11 and Tineco Pure One S12 when it comes to deep cleaning, but at least it is above average.
When you remove the dust canister, this vacuum morphs into a stick vacuum with the wand and main cleaning head, or a handheld without it.
It has three different attachments for cleaning areas above the floors. These attachments are of good quality, but I have one gripe, which lacks a quick-release latch.
All the tools will rely on friction and require a little effort to remove. The good news is that Shark uses good-quality plastics, so I don't think it will be an issue in the long term.
Cleaning Performance
To see how well the Shark ION P50 cleans floors, I put it through our standard tests on various debris types such as Fruit loops, quaker oats, coffee grounds, quinoa, and pet litter.
The duo clean head did an excellent job across the board from extra-large stuff like Fruit loops to dust. It was able to pick nearly everything in its path.
First, let's look at the overall scores.
Overall: 89.75%
Hard Floor: 99.82%
Carpet (Surface pickup): 99.23%
Carpet (Deep cleaning): 70.2%
It did well in all of the cleaning tests, with scores of at least 98%. It did predictability better at hard floors since the Duo Clean works best on this surface.
And it wasn't too shabby on carpets as it did very well at both surface and deep cleaning tests.
Even with the large debris tests, it did not have clogging issues as the nozzle had ample clearance to fit these debris types.
Hard Floor Results
Quaker Oats: 99.4%
Coffee: 99.9%
Quinoa: 100%
Pet Litter: 100%
The beauty of the Duo Clean head is its versatility in cleaning different types of surfaces without the need to swap tools. It is one of the best innovations in the last decade for cleaning hard floors.
As you can see in the results, the duo clean nozzle did very well on hard surfaces. It was nearly perfect in all of the tests. Just make sure to use the hard floor setting, or the soft roller will spin too fast and scatter debris forward.
I did other tests (not measured) on stuff like dust and Fruit loops, and it will pick up everything in its path.
If you live in a dusty area, the P50 will help keep the floor free from dust buildup. The LED headlights help greatly at tracking dust, especially under furniture.
Even in the lowest setting, the duo clean head will pick up everything in its path on hard surfaces.
Sand on Hard Floor Test
One of the DuoClean nozzle's greatest strengths is its ability to clean sand on hard floors without splattering it forward, which can be a problem with other brands using a single roller.
The roller part doesn't spin as rapidly, only enough to pick up debris. It's a big reason why it's my go-to vacuum for cleaning hard surfaces in my home.
For the sand on hard floor test, I scattered 50 grams of sand on a test area. The P50 was able to pick up an average of 99.7% in two tests.
What I like is the efficiency as it picks up most of it in the forward pass.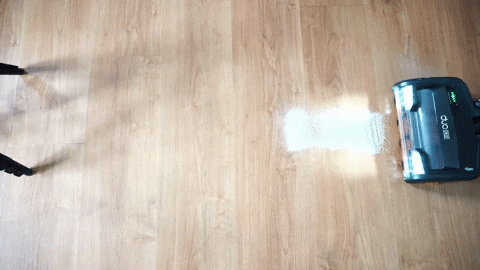 Edge cleaning test
This vacuum also did very well in the edge cleaning test, where I scattered pet litter on one corner with a quarter-inch crevice near the wall.
It's a perfect test spot to see how well a vacuum will clean these areas.
As seen in the before and after photos, the P50 picks up most of the debris, even at the crevice. The best part is the efficiency as the DuoClean brushes got most of the debris in the initial passes.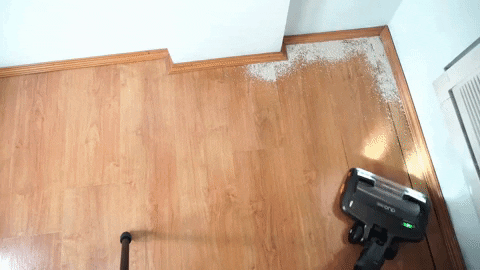 It's one of the best so far among all vacuums I've tested.
Hair wrap test
One weak spot of the P50 DuoClean head is hair. In this test, up to 7 inches of human hair, this much wrapped around the brush.
I didn't bother testing it on carpets, as it will most likely have the same results—nothing wrapped around the roller as it had the anti-tangle combs. However, the brush does not have an anti-tangle system found in newer Shark vacuums like the APEX Upright and Uplight with the Zero-M feature.
Carpet Cleaning Test
Next, let's look at how the ION P50 did at cleaning low and mid pile carpet. Again, I put it through our standard test of the four different debris.
Low Pile Results
Quaker Oats: 98.5%
Coffee: 100%
Quinoa: 98.6%
Pet Litter: 100%
One reason why the P50 did not do as well cleaning quaker oats and quinoa is the speed at which the soft roller spins in carpet mode.
Some of the quaker oats and quinoa were scattered forward and a reason for the lower score. It isn't an issue for cleaning dust as the soft roller is built to tackle such.
I'm impressed by how well the Duo Clean picks up surface dirt. It may not be as good as a Dyson or Tineco as far as deep cleaning, but it didn't clog even when cleaning Fruit loops, which is an issue for most stick vacuums, even those with the soft roller attachment.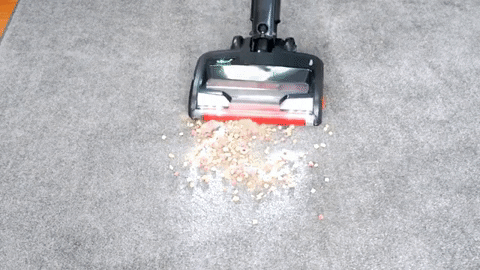 Mid Pile Results
Quaker Oats: 99.2%
Coffee: 98.1%
Quinoa: 99.5%
Pet Litter: 100%
This vacuum scored the lowest when cleaning mid-pile, but it is still in the high 90s, which is a pretty good indicator of how well the duo clean head is designed. It didn't do as well as the Tineco A11 and the Pure One S12, but it isn't too far behind.
The P50 is actually cheaper than these two stick vacuums and an excellent option if you don't mind not having as many tools.
Deep Cleaning Test
To see how well the Shark ION P50 does at cleaning embedded dirt, I rubbed 100 grams of fine sand on mid pile carpet to see how much it can pick up.
Sand is one of the toughest to clean on carpets and is something that Consumer Reports used to test how well a vacuum picks up on this surface.
I tested it on the default carpet setting and in boost mode. Remember that you'll have to continually press the boost button to use this setting, at least in the upright configuration.
It was able to pick up an average of 65.9% of sand in the default carpet setting and 74.5 in boost mode. So that is almost a 10% difference with the two settings.
While the Shark ION P50 does well at cleaning surface dirt on carpets, the duo clean head won't do as well against the Dyson V10, V11, Tineco A11, and the Pure One S12 when it comes to deep cleaning.
However, the fact that the duo clean works well on both surfaces makes it ideal inside homes with a mixture of carpet and hard surfaces or even rugs because there's no need to carry an extra tool all the time.
How noisy is the Shark ION P50?
To measure noise output, I use a sound meter a few feet away with the vacuum in its upright configuration in different settings. The vacuum is the loudest in this setting, so I think it's a good baseline figure.
Here are the results:
Hard floor: 66.4 dB
Carpet: 70 dB
Boost: 70.8 dB
I wouldn't say that the ION P50 is quiet, but it isn't overly loud. The 66.4-decibel noise level on the hard floor setting is a little louder than the Dyson V8.
However, it's less noisy in its highest setting at just over 70 decibels in the boost mode versus the Dyson V8 and V10 that easily goes over the 73-decibel mark.
Tools and Attachments
Aside from cleaning floors, the ION P50 can clean upholstery, vents, and other areas above floors thanks to these tools.
Upholstery tool: This is an excellent tool for cleaning upholstery as it has two felt linings on the front and back that provide good agitation.
Dusting brush: Has semi-stiff brushes that work well at cleaning low pile carpet or fabric upholstery.
Duster crevice tool: This two-in-one attachment combines a crevice and dusting brush. Great for cleaning hard to reach areas.
ION power core charger: The main charger for the ION P50 gives users the option to charge the battery separately.
However, it lacks a tool caddy or storage for these extra attachments, so you'll need a designated area to store these tools and avoid misplacing it.
Availability of Parts
There won't be an issue when it comes to the availability of parts. Shark has a plethora of parts available on their website or Amazon.
Parts such as the battery, soft roller, hose assembly, filter assembly, HEPA filter, and even the filter cover is available on their website.
You can also buy accessories that aren't in the box, such as the anti-allergen brush and under-appliance wand.
Please check my guide on removing Shark's Duo Clean roller for more details on cleaning the ION P50 brush roll.
Product Specification
Model
Shark ION P50
Brush roll on/off
No
Battery
28.8-volt Li-ion
Charging time
3 hrs.
Battery life
up to 56 mins.
Net weight
12.03 lbs.
Width
10.2"
Overall length
44.8"
Battery indicator
Yes
Filter type
1 Foam (washable)

1 HEPA (non-washable)
Dust capacity
2.044 li
Power
N/A
Cordless
Yes
Bagless
Yes
Warranty
5 yrs. (vacuum)

2 yrs. (battery)
Price
Check Price
Where can I buy the Shark ION P50?
The Shark ION P50 is available in different online stores like Amazon and Walmart. Please check the links below to see the latest prices.
Please note that if you purchase through the links above, I will earn a commission, but no additional cost to you, so it's a win-win for us!
Does the Shark ION P50 provide good value?
For the performance and versatility it brings to the table, the Shark ION P50 provides a lot of value at its current price.
It's less expensive than other cordless vacuums with similar performance, such as the Dyson V8, Tineco A11, and Dyson V10.
What I like about the ION P50 is the Duo Clean head that works well regardless of surface.
It's one of the best at cleaning debris of various sizes on hard surfaces. Not only will it pick up Fruit loops, but it can also clean dust exceptionally well.
One of the biggest surprises for me is how well it does on carpets. It scored higher than expected numbers and didn't have the snowplowing issues that stick vacuums that use low profile nozzles have.
The dust cup is enormous for a cordless at over 2 liters and larger than any brand that I've tested so far.
Despite the bulky canister, it can clean underneath furniture thanks to the powered lift away system.
Shark ION P50 - IC162 W/ Duo Clean Head, Lightweight Cordless Upright Vacuum with HEPA Filter
$178.88 ($105.22 / ounce)
We earn a commission if you click this link and make a purchase at no additional cost to you.
01/26/2021 05:45 pm GMT
5 Reasons Why You Should Consider the Shark ION P50
Excellent at cleaning carpets and hard floors: The Duo Clean system is one of the best tools available for cleaning hard surfaces and carpet. Since both the soft roller and bristle brush are integrated, there's no need to change tools constantly at every transition.
Decent run time: This stick vacuum will run for up to 50 minutes at the hard floor setting, which is more than enough for most cleaning tasks.
Lift away offers a lot of versatility: The powered lift-away feature allows users to use this vacuum in three different configurations. Talk about versatility.
Bright LED headlights: Helps a great deal with visibility.
Easy to empty: The dust cup design with its capacity and working room makes disposing of dirt easier even without the hygienic system.
The Verdict: An Excellent Option for Cleaning Floors
The Shark ION P50 is an excellent option for individuals looking for a versatile upright-like stick vacuum capable of cleaning floors.
With most of the components close to the base, it won't be as tiring to use cleaning floors as a Dyson would.
It doesn't swivel as well or is as agile, but the large dirt capacity makes up for it since you don't need to empty as often.
The powered lift-away gives it the ability to go underneath furniture where most other uprights can't reach while still maintaining the class-leading dirt capacity.
It can also function as a handheld vacuum thanks to the three additional tools in the box.
However, there are some issues with this product. One of which is the lack of a quick-release latch in any of the extra tools.
The bulky frame means it won't be as agile as a Dyson or Tineco. It feels heavier when cleaning carpets in its upright configuration.
Using it in lift-away mode removes some excess weight, but it becomes a bit too light on hard surfaces.
This product isn't the best option for pet owners since it lacks the Zero-M feature that prevents hair from wrapping on the brush roll. So you'll have to look elsewhere if you need something that will work for such.
But for daily cleaning tasks in high traffic areas, it is an excellent option that won't break the bank.
Excellent Mid-Priced Option for Cleaning Floors
Ergonomics -

94%

Surface Cleaning -

97%

Deep Cleaning -

70.2%

Quality -

94%

Design -

93%

Value -

97%
Why you should consider the Shark ION P50
Based on tests, the Shark ION P50 is one of the best options available under $250 for cleaning floors. The Duo Clean head has such good design dynamics that even on the lowest setting it will pick up any size debris from fine dust to extra-large Cheerios-sized stuff on hard floors. This vacuum has the dirt capacity of an upright, but with the reach of a stick vacuum. It packs more weight than traditional stick vacuums but it's not a huge concern since most of it is near the base. With the lift-away feature, it's much more dynamic when it comes to navigating around and underneath furniture. However, the steering feels heavier with the extra weight in the upright configuration and a bit wobbly in stick mode. Overall it is an excellent product that's worth a look for those looking for a stick vacuum that can clean floors well.