In today's comparison, we'll be looking at three different vacuums from two distinct brands. I'm talking about the Shark ION P50, Dyson V10, and V11.
I've already compared the V10 and V11 in a separate article – click on the link if you have not read it.
But for this article, I want to share with you how the Shark ION P50 compares with Dyson's flagship options.
I've spent several weeks testing these vacuums to gather data, and here are the results.
Despite the price difference, the ION P50 fares well in several distinct situations, and though Dyson is the more premium choice, it isn't entirely a better product.
I'll outline all of these below.
BEST FOR HARD FLOORS
Shark ION P50
Airflow: up to 46.27 CFM
Run time: up to 53 mins
Weight: 12.03 pounds
Dirt Volume: 2.044 liters
Warranty: 5 years
BEST FOR CARPET
Dyson V11 Torque Drive
Airflow: up to 59 CFM
Run Time: up to 74 mins.
Weight: 6.68 pounds
Dirt Volume: 0.77 liters
Warranty: 2 years
CHEAPER ALTERNATIVE TO THE V11
Dyson V10 Absolute
Airflow: up to 59 CFM
Run Time: up to 61 mins.
Weight: 5.9 pounds
Dirt Volume: 0.77 liters
Warranty: 2 years
* If you click this link and purchase, we earn a commission at no additional cost to you.
[toc]
Introduction to the Shark ION P50 vs. Dyson V10 and V11
While I love the power of the Dyson V10 and V11, the Shark ION P50 brings some unique features you'll not find in other brands.
Shark ION P50: Probably the Best Cordless on Hard Floors
One of the unique cord-free vacuums I've tested is the Shark ION P50 due to its configuration.
It doesn't follow the traditional design with the motor and dust container on top. Instead, Shark relocated these components closer to the base.
The result is a design resembling an upright than a stick vacuum. This model is my go-to vacuum for cleaning hard floors in my home because it's self-standing. There is no need to drill holes on the wall to install a dock or purchase a third-party stand for storage.
One reason why it's so good on hard floors is the Duo Clean system. Instead of just having a roller bar, Shark combines it with a standard brush rotating in unison with the roller.
It doesn't spin as rapidly as other cordless vacuums with only a roller, so it doesn't splash debris forward, making it more efficient.
We earn a commission if you click this link and make a purchase at no additional cost to you.
Dyson V10 Absolute: Great on Hard Floors and Carpet
The V10 Absolute is a complete redesign over the V8 and a step into a new direction for James Dyson. It still retains the same structure but with changes to significant elements of the design.
First, the dust container is realigned in the same direction as the motor, giving it better airflow, thus more suction making it one of the better options on carpets.
The Torque Drive attachment is also an upgrade over the Direct Drive tools in the V7 and V8. Now with two adjustable gates so large debris can fit.
It still has the soft roller attachment for cleaning hard surfaces. One advantage the V10 has over the Shark ION P50 is its ability to run further – up to 61 minutes versus the 50 minutes of the Shark.
This model is an excellent option for folks looking for a stick vacuum capable of cleaning hard floors and carpet in a small to medium-size home.
We earn a commission if you click this link and make a purchase at no additional cost to you.
Dyson V11 Torque Drive: A No-Brainer on Carpets
Shortly after the V10, the V11 Torque Drive was introduced by Dyson. On the surface, it only looks like a refresh, but it's more than that.
This vacuum has got wicked suction and much more airflow than the V10. It's also the first Dyson cordless to have a display and detachable batteries (more on that below).
The Torque Drive attachment also gets an upright with the Dynamic Load Sensor that adjusts airflow based on surface resistance. If it detects more, it goes into a higher setting and does the opposite when it senses less.
Finally, the V11 is the cordless vacuum I'd recommend for deep cleaning carpet if the price is not a concern. I mean, suction is so immense that it can be challenging to push.
We earn a commission if you click this link and make a purchase at no additional cost to you.
Design Differences of the Shark ION P50, Dyson V10, and Dyson V11
Next, let's look at the design of each vacuum and how each one differs.
You can immediately see in the photo above the differences between the Shark and Dyson products.
Shark ION P50
The Shark ION P50's dirt receptacle is closer to the base than the Dyson V10 and V11, enabling a good balance of cleaning floors.
However, it feels heavier on carpet than on hard surfaces due to the additional friction of the extra brush.
One workaround is using it in "Lift-Away" mode.
This feature is Shark's innovative creations and a big reason why I'm a fan.
Pulling a lever will separate the dust receptacle from the frame and allow consumers to use it as a stick vacuum.
The beauty of this design is the ability to use the cleaning nozzle. So it's able to reach deep under furniture – something not possible with traditional upright vacuums.
It also comes with two extra tools for cleaning other areas like upholstery and stairs.
Dyson V10
The Dyson V10 is a bigger-than-average cordless due to the size of the dust bin and motor. One issue with this design is its inability to stand on its own.
You'll need to use the dock to store it vertically, which requires drilling a few holes on the wall.
Not a big deal, but it limits the placement of the vacuum to just one location.
There are stands available for the V10 and V11, but these cost extra money. But it's an alternative way to store it plus the accessories.
Dyson V11
The V11 is similar to the V10 in terms of design, but it weighs more with the larger motor and battery.
It's one of the heaviest cord-free options right now, at close to seven pounds.
This added weight can take a toll on your arms and wrist if you're using it for an extended period, especially on carpets where it has more friction.
But when you see the amount of dirt picked up, it's a worthwhile trade-off for the cordless convenience.
What's the difference between the Dyson V10 and V11?
At first glance, you'd think that the V10 and V11 are similar products. But the V11's upgrades are far beyond cosmetics.
It has more airflow, runs much longer, and cleans carpet better than the V10. Plus, it has a dynamic display that alerts users, in real-time, the status of the battery, power levels, blockages, errors, and more.
Related: Dyson V10 vs. V11 Comparison
Interface comparison
In the Shark ION P50, buttons on the handle enable users to choose different settings –floor (or hard floor), carpet and boost.
The controls are responsive, but you'll have to press the boost mode continually to gain access to the highest airflow setting.
I only use the boost if I need to clean carpets more thoroughly. Otherwise, the default floor and carpet modes are enough.
Dyson V10 and V11 interface
The V10 and V11 are similar, with both having the same trigger and dirt volume. One difference is the display behind the V11's motor, which is absent in the V10.
This screen provides information about battery status, and since it updates in real-time, you know when it needs to be recharged.
The V10 doesn't have a display. So you'll have to rely on the LED strobes on the battery to know how much is left.
It also has a slide switch for toggling between the three power modes.
Power/Airflow comparison
Out of the three, the V11 is the outright winner here. It has the highest airflow of all the cord-free products I've tested so far.
Here are the results.
Battery
Low
Auto/Mid
Max
Shark ION P50
Floor mode
(Cleaning head)
24.8 CFM
N/A
29 CFM
Carpet mode
(Cleaning head)
21.77 CFM
N/A
27 CFM
Wand
31.37 CFM
N/A
46.27 CFM
Dyson V10
Wand
28.57 CFM
36 CFM
59.71 CFM
Cleaning head
26 CFM
31.37 CFM
49.27 CFM
Dyson V11
Wand

34.55 CFM

41.91 CFM

66.13 CFM

Cleaning head

28.52 CFM

31.94 CFM

53.58 CFM
The V10 has less airflow than the V11, which is most noticeable in the deep cleaning tests, where the V11 obliterates the competition here.
Shark didn't fare well with here as it had the lowest scores. Fortunately, the Duo Clean is so good with surface cleaning that it could keep pace with the costlier Dyson.
How does the Shark ION P50, Dyson V10, and V11 clean?
Despite the bulky frame, Shark manages to extract decent versatility from the ION P50 thanks to the Lift-Away system.
It doesn't have the portability of a Dyson, but it can clean upholstery well enough. One gripe I have is you'll have to use two hands with the Shark as the canister's head sits at an angle.
The Dyson V10 and V11 have the same functionality in their stick and handheld configuration.
Both have a detachable tube and interchangeable tools to clean areas above the floors.
Cleaning test results
I've put these vacuums through an arduous series of tests to see how well it cleans and if there are any potential issues.
Here are the overall scores across all the tests.
| Model | Shark ION P50 | Dyson V10 | Dyson V11 |
| --- | --- | --- | --- |
| Overall | 89.75% | 97.21% | 99.66% |
| Hard Floors (Surface Test) | 99.82% | 98.84% | 99.72% |
| Sand on Hard Floor | 99.7% | 100% | 99.4% |
| Carpet (Surface Test) | 99.23% | 98.4% | 99.26% |
| Deep Cleaning | 70.2% | 97.03% | 114% |
Comparing the surface cleaning tests, the Shark ION P50 and Dyson V11 are very close, with the P50 scoring higher in the hard floor test.
However, both Dyson products did better, predictably in the deep cleaning tests, with the V11 picking up an insane 114% on mid-pile carpet.
Which is better on hard floors?
The results don't lie as the P50 had the best overall scores, but it goes beyond the numbers. Not only does it pick up well, but it does so with high proficiency.
It's the only stick vacuum that didn't clog when I torture tested with Fruit loops. Most options will clog cleaning this much, but the P50 did not.
The V10 Absolute and V11 Torque Drive also are decent options for hard surfaces like hardwood, but I'd pick the V10 between the two because it has the Fluffy attachment.
Sand on hard floor comparison
Cleaning sand is one of the challenging tests for most cordless vacuums, but these three scored high marks.
These are results (two tests, 50 grams worth of sand):
Dyson V10: 100%
Shark ION P50: 99.7%
Dyson V11: 99.4%
There isn't much of a difference with the results, and all three did very well. I would caution using the V11 on sand because there's a higher risk of it scratching hardwood.
Another reason is it isn't as efficient as a roller– it left a trail of sand with the forward pass.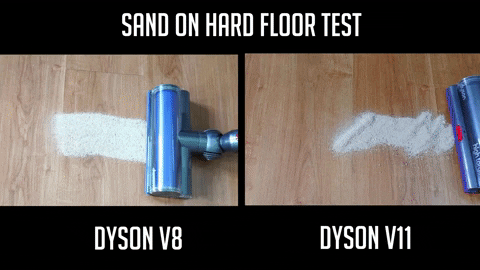 If you own easily scratched wood, it would be more prudent to opt for a vacuum without a brush roll or go with the V10 Fluffy that has the most padding.
Edge cleaning comparison
To test how well these three vacuums clean edges, I scattered a copious amount of pet litter on one corner of my home office. It had a quarter-inch crevice near the wall, so I thought it was a perfect spot to test.
While all three did well, the Shark ION P50 is the most efficient, vacuuming most pet litter with the fewest passes.
The V10 was the next most efficient, at least with the roller attachment. In comparison, the V11's Torque Drive scattered portions of the pet litter backward.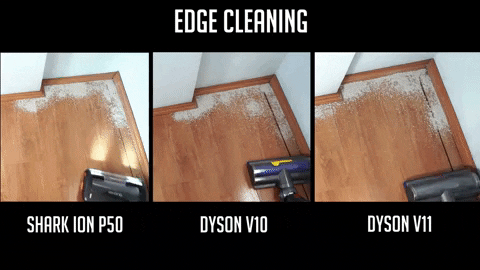 Carpet cleaning comparison
Now, let's have a look at how these vacuums did on carpet.
| Model | Shark ION P50 | Dyson V10 | Dyson V11 |
| --- | --- | --- | --- |
| Carpet (Surface Test) | 99.23% | 98.4% | 99.26% |
| Deep Cleaning | 70.2% | 97.03% | 114% |
When it comes to surface cleaning, the Shark ION P50 could hold its own against the V10 and V11.
It was surprisingly better than the V10 in cleaning surface debris. It's an excellent option inside homes with a mix of hard floors and carpets.
Nonetheless, it didn't do so well with the deep cleaning test with a 70.2% average (did the experiment three times) due to the low airflow. The V11 Torque Drive is the unanimous winner in deep cleaning with a 114% score – the best so far of all vacuums I've tested.
Large debris comparison
I didn't do a measured test, but an eye test to see how well each vacuum will clean large and extra-large debris like Cheerios and Fruit loops.
The champion for this round is the Shark ION P50.
Even if it doesn't have high airflow, the roller and bristle brush combo works astoundingly well at picking up debris of all sizes.
One thing you'll notice is the roller bar is not spinning at a rapid pace. This is counter to other brands like Dyson, Dreame, Tineco, Jashen, Roidmi, just about any brand.
And the design works well on hard floors.
Check out how the P50 does on this enormous pile of dirt. If you'd use another stick vacuum, it'll easily clog up the gap.
The V10 is decent, but it doesn't like vast quantities of Fruit loops, while the V11's Torque Drive needs coaxing to direct debris to any of the two gates.
Hair wrap comparison
Next is the hair wrap comparison. I used one gram of human hair between five to seven inches.
The Dyson V11 did the best with hardly any hair wrapping on the Fluffy and Torque Drive attachments.
The V10 also did well, but there was some hair wrapping around the soft roller.
In contrast, the Shark ION P50 did the worst, with this much on the brush as it lacks the Zero-M anti-tangle feature.
You'll notice that none wrapped on the roller part as it had combs that prevent it. Shark has a newer product called the Vertex Cordless that is much better at avoiding hair tangles. If this is a concern, read my detailed review about it.
Dust bin comparison
Dirt capacity is a vital consideration when choosing a stick vacuum for cleaning floors extensively.
The Dyson V10 and V11 have equal-sized containers, each capable of holding 0.77 liters.
But the Shark ION P50 trumps them both with a 2.044-liter volume.
Check the bins side-by-side.
You can see the volume difference between the three as the P50 has ample open space in the middle, which isn't the case for both Dyson vacuums.
The V10 and V11 employ a hygienic system, while the P50 does not but relies on a trap door.
Conversely, it doesn't need it since there's so much open space that dirt drops down as the gate opens.
Tools out of the box
Let's look at the tools that come with these vacuums starting with the Shark ION P50.
Upholstery tool

Dusting brush

Duster crevice tool

ION core power charger
It has the least amount of tools among the three options here.
Here's what you'll get from the Dyson V10 Absolute.
Torque Drive

Fluffy tool

Combination tool

Crevice tool

Soft dusting brush

Mini turbo brush

Extension tube

Charging dock

Charger
Lastly, here's what comes in the V11 Torque Drive
Mini turbo brush

Soft dusting brush

Crevice tool

Combination tool

Stubborn brush tool

Wand storage clip

Docking station
The V11 has the most tools, including the storage clip and stubborn brush tool, which works excellent cleaning pet hair on upholstery.
Run time comparison
Battery
Low
Auto/Mid
Max
Shark ION P50
Floor mode

Cleaning head
32:13 mins.
N/A
N/A
Carpet mode

Cleaning head
23:17 mins.
N/A
N/A
56:19 mins.
N/A
19:04 mins.
Dyson V10
Non-powered
61:59 mins.
31:33 mins.

5:07 mins.

Cleaning head
46:45 mins.
25:37 mins.
5:42 mins.
Dyson V11
Non-powered

71:11 mins.

40:12 mins.

6:53 mins.

Cleaning head

74:58 mins.

46:11 mins.

7:14 mins.
The V11 easily won this round as it lasted more than 74 minutes in my test. Amazingly, it ran further with the Torque Drive than the crevice tool.
The V10 had the next best result with a 61 minute run time with the crevice tool. But that number goes down to 27 minutes with the Torque Drive, which is less than the P50 in floor mode.
The Shark ION P50 is decent in handheld mode running for up to 56 minutes but only up to 32 minutes with the DuoClean head.
Can you replace the batteries of the Shark ION P50, Dyson V10, and V11?
Yes, the batteries of these vacuums are replaceable. The Shark ION P50 and some variants of Dyson V11 (Torque Drive and Outsize models sold in Dyson) have detachable batteries, which make them easy to replace.
However, Dyson V10's isn't removable, and you'll have to remove three screws to detach it from the unit. The process isn't complicated and only requires a Philips screwdriver.
Filter comparison
All three products employ a fully sealed system with a post-motor HEPA to keep allergens inside the dust receptacle.
The difference is that the V10 and V11 have a single lifetime filter, while the Shark ION P50 has two.
Lifetime means the filter will last the life of the vacuum. Shark's post-motor filter isn't washable and has to be replaced annually.
One method I use to extend its life is vacuuming with it using a handheld brush attachment.
Noise comparison
Before my commentary, here are the results of the tests using a sound meter.
| Airflow rating | Low | Mid | High |
| --- | --- | --- | --- |
| Shark ION P50 | 66.4 dB | 70 dB | 70.8 dB |
| Dyson V10 | 64.1 dB | 71.6 dB | 76.7 dB |
| Dyson V11 | 66.5 dB | 68.7 dB | 78.9 dB |
The Dyson V11 is the loudest option, very close to 80 decibels with the sound meter. However, I noticed that the V10′ Torque Drive head tends to vibrate more.
Shark is the least noisy alternative here, recording just 70.8 decibels.
Ergonomics comparison
I used these vacuums extensively, cleaning floors to see how good these were in terms of ergonomics. The V10 and V11 are similar to the V10, being slightly better since it is lighter.
Dyson's steering is better than Shark, but arm and wrist fatigue can creep up during long stretches due to the placement of the handle, dust bin, and motor.
The ION P50 feels like an upright with most of its weight close to the base. However, it's heavier on the carpet due to friction. You can offset this by using it in Lift-Away mode, where it'll be lighter.
Maintenance
Dyson will have fewer maintenance costs because its filters are considered "lifetime." So with proper care (washing once a month), there's no need to replace it. I would still suggest buying an extra set to minimize downtime, especially if you use the vacuum every day.
Shark's filter isn't lifetime. For instance, you'll need to change the HEPA filter once a year. The pre-motor filter is washable, but you'll also need to replace it if the sponge material wears.
Fortunately, replacement filters are available on the Shark website and Amazon.
Another part that needs upkeep is the brushes. Please check my guide on cleaning Shark's Duo Clean brushes here for more information.
Spec comparison
Shark ION P50

Dyson V10

Dyson V11

Run time

up to 56 mins

up to 61 mins

up to 74 mins

Recharge

3 hours

3.5 hours

4.5 hours

Dirt capacity

2.0
44 liters

0.77 liters

0.77 liters

Length

44.8"

49.2"

50.6"

Width

10.2"

9.8"

9.8"

Weight

12.03 pounds

5.9 pounds

6.68 pounds

Power

up to 46.27 CFM

up to 59.71 CFM

up to 66.13 CFM

Warranty

5 years

2 years

2 years

Price
The Shark ION P50 has a 5-year warranty on the vacuum and two years for the battery.
Where can I buy the Shark ION P50, Dyson V10, and Dyson V11?
These vacuums are available in online stores like Amazon and Walmart. Check the links below for more information.
Disclosure: Realize that I'll earn a commission if you purchase through the links below. But at no extra cost to you, so it's a win-win for us!
Which vacuum offers the better value?
The answer would depend on your need. Inside homes with hard floors, the Shark ION P50 would be a no-brainer option because of how well and efficiently the DuoClean is cleaning surface debris.
You don't need to bolt on a dock just to store it vertically. The self-standing feature makes it possible to keep this anywhere in your home.
Plus, the extra-large dirt volume means more coverage before having to dispose of the contents.
Even for homes with a mix of hard floors and carpet, a Shark is still a viable option because of the reasons stated above.
It won't deep clean well as a Dyson, but it is excellent at surface dirt.
For wall-to-wall carpet, the V11 should be a strong consideration. Its high airflow will pick up embedded dirt other cordless vacuums leave behind.
The V10 is a good middle-ground option if you don't want to spend a premium on the V11.
It's good on hard floors and carpet, thanks to the Fluffy and Torque Drive attachment. But it lags behind the V11 with the latter.
The Verdict: Which is better, Shark or Dyson?
I've laid out the reasons why you should consider each vacuum above.
Shark and Dyson vacuums are among the more innovative brands; each offering features the other doesn't have.
To further help you, I've enumerated some compelling reasons why each model should be on your radar.
4 Reasons to consider the Shark ION P50
Probably the best on hard floors: The DuoClean head is possibly the best tool I've tested for cleaning hard floors. It just has enough rotation to grab dirt, but not so much as to splatter debris forward, plus it did not clog in any of the tests.
Extra-large dirt volume: The 2.044-liter capacity is enormous for a cordless stick vacuum and the best in its class and price point.
Bright LED headlights: You'll appreciate the added visibility the LED offers when tracking dust on hard floors.
Self-standing: No need to drill walls or purchase a stand for vertical storage. Store this vacuum anywhere in your home as an upright, but without the cord and extra weight.
3 Reasons to consider the Dyson V10
Cheaper than the V11: Consider the V10 if the V11 is too costly. Thanks to the Fluffy attachment, it won't be as good as the V11 on carpets, but it's great on hard floors.
Excellent on hard floors: The Fluffy tool makes the V10 the next best alternative on hard floors after the Shark.
Versatile: It has enough tools for cleaning upholstery and other zones above the floor.
4 Reasons to consider the Dyson V11
Outstanding on carpets: The V11 will clean carpet more thoroughly than any vacuum in this list. It has the most airflow and the best agitation, which makes it possible.
Runs the longest: Not only does the V11 have a powerful motor, but it also will run the furthest thanks to the next generation, seven-cell, nickel-cobalt battery.
Adjusts suction automatically: Inside the Torque Drive is a Dynamic Load Sensor that fires a signal to the motor to increase suction if it detects more surface resistance.
Dynamic display: It also has a screen behind the motor that updates the user in real-time, essential data such as battery status, power modes, error codes, and more.