Over the years, Shark has evolved its upright vacuum line, and the APEX DuoClean is their newest product to date.
We'll have a close look at the Shark APEX DuoClean upright.
There are currently two versions: the early generation APEX without the Zero-M and the version with it.
We'll be looking at the Zero-M in particular, which is their latest upright to date.
Is Shark APEX w/ Zero-M the Best Upright?
The Shark APEX with DuoClean represents the next generation of Shark uprights. It's one of the biggest, most potent, and versatile uprights available right now. The APEX with Zero-M is more potent than any other bagless vacuum available for suction and airflow. This model has 101 inches of water lift and 90 cfm of airflow. Those numbers are higher than some brands that are several hundred dollars more expensive, such as the Dyson Ball Animal 2 and Miele U1 Dynamic. Add the DuoClean head, and this vacuum will perform well on a variety of surfaces such as rugs, carpet, hard surfaces. So is the Shark APEX DuoClean with Zero-M a good buy? Read this review to find out the good and bad side of it.
*If you click this link and make a purchase, we earn a commission at no additional cost to you.
Pros
Outstanding suction and airflow: As I've said, the APEX has excellent power and airflow that outperforms some brands hundreds of dollars more expensive.
Lift-Away system makes it versatile: It's one of a few full-sized uprights that's genuinely usable on stairs and upholstery.
It will pick up anything: The DuoClean head can clean any dry surface dirt from fine dust to large bits of fruit loops.
Fully-sealed system: This is one of the few upright vacuums at this price range with a fully sealed system that keep allergens inside the bin.
An excellent option for pet owners: The Zero-M technology is a recent innovation by Shark that removes tangles on the brush roll thanks to the rubber fangs on top of it. In tests, it is quite effective at preventing pet and human hair from wrapping on the brushes.
Cons
Quite heavy: The APEX AZ1002 tips the scales at 16 pounds, but the Lift-Away technology mitigates this heft by moving the excess weight of the dust bin and motor to your off-hand.
Large main nozzle: Cleaning tight areas will be an issue because of the broad cleaning head.
Steering can be difficult in upright mode: Moving this upright around in its standard configuration with the dust bin attached can strain the arm and wrist.
Shark APEX DuoClean with Zero-M Design
At first glance, the APEX AZ1002 looks much like a traditional upright. But Shark has some neat features that they put in this model to add to the functionality and reach.
1. Powered Lift-Away
One feature that makes it a viable whole-home cleaner is the powered lift away system that transforms it from a bulky upright to a lightweight stick vacuum.
It gives you the same feel like a stick vacuum in terms of being lightweight.
With this vacuum in "Powered Lift-Away mode," it can go deep below furniture – something that's not possible with a traditional upright.
So if you're looking for an upright with such capability, this is an excellent option to consider.
2. Cleaning head with Zero-M
If there's one reason to buy this upright, it would be the Duo Clean nozzle. Shark adds the Zero-M, which I think means "Zero-Maintenance."
This feature makes the APEX AZ1002 an excellent option for pet owners.
Zero-M is a row of protrusions (it looks like small fangs) that untangle hair as the motor runs.
For it to work, you'll have to run the vacuum around a minute or so after cleaning hair to give it time to untangle hair.
Duo Clean is fantastic at cleaning surface dirt, as shown in several tests.
It will pick up any dry dirt on the surface.
3. Ergonomics
The handle has fingertip controls that easily toggle between hard floors, low pile, and high pile carpet with ease.
One feature that will help with ergonomics is the "Powered Lift-Away" system.
This configuration lightens the vacuum a lot when cleaning floors. Like I said earlier, it makes this product function as a stick vacuum.
4. LED headlights
On the nozzle is two rows of LED lights that help with visibility for tracking dirt. It is an underrated feature that more upright vacuums should have, in my opinion.
5. Attachments
The attachments will depend on where you purchase the vacuum.
For instance, the package from Amazon comes with three tools:
12″ crevice tool: Shark's version has the right length and capable of reaching deep between tight spots such as spaces between cushions.
Pet multi-tool: This is a two-in-one tool with a stair/upholstery cleaning attachment and a cover with stiff bristles for cleaning stubborn pet hair.
Mini motorized pet brush: Has a spinning brush roll with a motor for cleaning upholstery or stairs.
Other tools such as the under appliance wand and the anti-allergen dust brush are available for purchase in Shark's online store.
What improvements does the APEX AZ1002 have over the AX951?
The APEX AZ1002 did not deviate too much from the earlier version APEX AX951 regarding the overall design.
But there are some significant upgrades which I'll list down below.
More suction: Despite having the same 1,350-watt motor, the newer AZ1002 produces more power (101 pounds of water lift vs. 94 in the AX951).
Now has Zero-M: Nearly all new Shark vacuums come with the Zero-M feature that helps remove tangles on the primary brush roll.
Better hose construction: The hose on the newer version APEX upright has higher quality plastic that will last longer.
Rubber wheels: Newer version has rubber wheels all around that rolls smoother and will hold up better over the long haul. The older version uses plastic wheels with a felt cover that isn't as robust.
How the Shark APEX Upright with Zero-M Cleans?
At the heart of the APEX upright is the DuoClean technology with Zero-M.
It's a combination of two innovative features that make it easier for consumers to clean various surfaces.
What makes the DuoClean system so useful?
The DuoClean combines the soft roller and a standard brush that's a departure from a traditional nozzle with only the bristle brush.
It can pick up fine and extra-large debris equally well thanks to the ample clearance in front of the cleaning head.
Just look at how it is capable of cleaning a huge mess like this.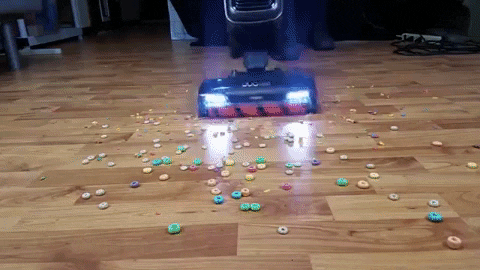 And also dust the floor.
Very few upright vacuums (even more expensive options) have this capability.
What is Zero-M?
Another innovative feature that APEX AZ1002 has is Zero-M that keeps hair from wrapping around the brushes.
It is a row of small "fangs" or protrusions on top of the brush that constantly untangle hair as it tries to wrap around.
Based on tests, this feature is quite useful at what Shark claims it does.
The important thing remember is to keep the vacuum running for a minute or so after cleaning an area with lots of hair to give it time to untangle any jumbles.
It does better than the Bissell Pet Hair Eraser Turbo Plus to prevent tangles on the brush roll.
The Bissel had 67% of the one gram of 14″ hair wrapped on the brush while the Shark only had 14%.
However, some consumers have complained about the hair wrapping around the brush.
It's not just a single complaint, but there were several who even had photos to show, so it's worth mentioning.
Nothing was mentioned about running the review about the consumers running the vacuum for a full minute after cleaning hair.
Stick Vacuum Usability
Unlike other bulky full-sized uprights, the Shark APEX has the Powered Lift-Away feature that allows it to reach deep under furniture.
Not having the bulky dirt bin and motor house lightens it up significantly, giving it the stick vacuum's functionality.
This configuration makes it easier to move it around to clean stairs and upholstery.
Cleaning Performance
One of the Shark APEX's greatest strengths is its ability to clean surface dirt regardless of surface.
It scores high marks regardless of debris size.
This product is one of the few options available to pick up dust, hair, cheerios, dander, etc. without clogging up or snowplowing.
Shark also did an excellent job with how the nozzle seals, and it also scores high marks in crevice pickup tests.
Hard floor cleaning
The Duo Clean system shines most on hard floor surfaces as it will pick up all surface dirt regardless if it's hardwood or tile.
Learn how pro tips on how to clean hardwood surfaces by clicking on the link.
Any Shark vacuum with the Duo Clean system is a must-have in homes with many hard floors.
It will pick up large debris and fine dust and even sand thanks to the soft roller bar.
Carpet cleaning
The Shark APEX AZ1002 isn't too shabby on carpets either.
It has the same outstanding surface dirt pick up with the bonus of deep clean medium pile carpet.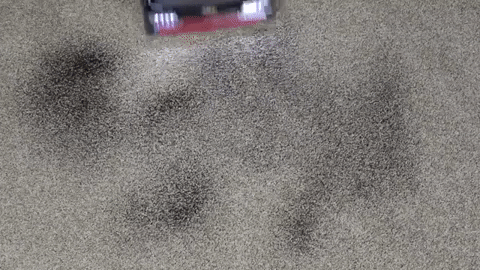 The APEX is a better option inside homes with different floor types than the Dyson Ball Animal 2; that only works well on carpet.
How easy is it to use the Shark APEX?
Assembly out of the box is easy because all the connecting points snap on and lock in place.
Shark does an excellent job in terms of the locking mechanism that's as easy to detach.
Fingertip controls on the handle give instant access to the different power settings.
Toggling between these configurations is as easy as sliding the button.
How much does the APEX AZ1002 weigh?
This upright tips the scales at over 16 pounds.  It is one of the heaviest Shark uprights right now.
Having the powered lift away feature somewhat mitigates the weight, but it can be an issue carrying it up and down a flight of stairs.
Is it easy to empty the dust cup?
The dust cup capacity of the AZ1002 is generous at 1.5 dry quarts (or 0.4 gallons). It's one of the biggest you'll ever find.
Shark does an outstanding job providing easy access to empty its contents with doors on the upper and lower parts.
Gaps inside aren't as tight, so it's easier to remove any stuck debris inside.
Maneuverability: Is it Easy to Steer?
Moving this massive upright around furniture won't be much of an issue thanks to the swivel steering and the new rubber wheels that roll around smoother.
The weight is most felt in its standard configuration with the canister's full weight on the body itself.
This configuration is best on carpets, where the vacuum propels itself forward because of the soft roller bar.
In lift-away mode, the weight is a non-issue since you hold the canister with one hand and while steering the nozzle using the other.
Size & Dimension
The Shark APEX with Zero-M is one big upright vacuum.
Here are its dimensions:
Height: 46 inches
Width: 12.2"
Cord length: 30 feet
Hose: 5.5 feet
Weight: 16.1 lbs.
Cleaning path: 11 inches
It does not have cord rewind, so you'll need to manually wrap the cord around the two hooks behind the vacuum.
Filtration
Another reason to consider the Shark APEX AZ1002 is the sealed filtration system.
This model has several filters – two pre-motor filters and one HEPA post-motor filter that help keep allergens from leaking.
In fog tests, none of the 5-micron fog leaked through the system.
Maintenance Costs
There isn't much when it comes to upkeep with this Shark upright.
All the filters are washable and considered "lifetime filters," so no need to continually buy new ones.
Shark does recommend washing the two pre-motor filters once every three months and the HEPA filter once a year.
Just in case any of the filters get too filthy or break, Shark has replacement packs available.
Make sure to visually check periodically to see if any of these filters need cleaning to keep the vacuum performing its best over the long haul.
The Zero-M technology also reduces the upkeep of the brush roll by automatically untangling hair and other debris as it cleans.
This technology seems to work based on tests and reviews, but there are some complaints.
Noise level
Even with the motor's sheer power, it isn't as noisy, measuring between the 72 and 76-decibel range depending on where you place the noise meter.
Product Specifications
| Model | Shark APEX DuoClean with Zero-M AZ1002 |
| --- | --- |
| Type | Upright |
| Suction | 101" water lift |
| Airflow | 90 cfm |
| Dirt capacity | 1.5 dry quarts |
| Weight | 16 pounds |
| Length | 46" |
| Cleaning Path | 11" |
| Power cord | 30 feet |
| Filter | Washable |
| Warranty | 5 yrs |
| Price | |
Value for Money
Is the Shark APEX DuoClean with Zero-M worth the money?
The short answer is, yes, it is.
Here are several reasons why it provides excellent value.
Outstanding cleaning performance: The AZ1002 is one of the best performing options regardless of price. When you look at overall performance, particularly on hard floors, it outclasses more expensive options such as the Miele and Dyson.
Fully sealed system: This is one of the least expensive uprights with a fully sealed system. Other options, such as the Bissell Pet Hair Eraser, have HEPA filtration, but allergens will leak through its system.
Cleans under furniture: Very few uprights will have the capability to deep clean under furniture the way the APEX does.
First-rate build quality: Shark has also improved the quality of plastic they use mainly on the hose. All the tools will snap on snugly, and the build quality feels solid.
Versatility: The lift away system gives it the versatility of a canister vacuum.
Don't worry about spending more on this as low maintenance costs offset it. Crucial parts such as belts, filters, brushes, and extra tools are widely available on the Shark website just if you need any of these.
We earn a commission if you click this link and make a purchase at no additional cost to you.
The Verdict: Who Should Buy the Shark APEX DuoClean with Zero-M?
There's no question that the Shark APEX AZ1002 is an excellent product, but does it match your needs at home.
To help you answer this question, I'll enumerate the scenarios where this vacuum will be most beneficial.
Large homes with a mix of carpet, rugs, and hard surfaces: The DuoClean system is one of the best options for cleaning various floor types. There's no need to switch tools to clean d. The DuoClean system will clean most of the surface well enough.
Homes with lots of pets: Zero-M is a fantastic feature that will work as advertised. It will untangle hair (pet or human) and keep the brushes clean.
Need a vacuum in a commercial setting: Some cleaning companies use this vacuum for their cleaning business because it cleans exceptionally well.
Don't want to buy more than one vacuum: The lift away system gives it the capability to clean areas such as the vehicle interior, upholstery, vents, stairs, and much more.
A Cheaper Option Than A Dyson Ball Animal 2 With Comparable Performance
Ergonomics -

94%

Surface Cleaning -

97%

Deep Cleaning -

100%

Quality -

95%

Design -

95%

Value -

92%
Summary
The Shark APEX DuoClean with Zero-M is an excellent option for homes with lots of pets. Zero-M is proven in independent tests to be able to prevent pet or human hair to wrap around the brush. Its Shark's most powerful upright, but also the biggest – heavier than the earlier version APEX by a few pounds. The bulky weight is a non-issue in "lift away" mode because the weight is split in this configuration. Overall, I'd recommend the APEX DuoClean for people looking for a full-sized upright to clean their homes with bare floor and carpet.