For the past few years, a lot of new robot vacuum brands have come out into the market such as Xiaomi, ILIFE, and Eufy, to name a few.
A lot of them have proven to be good, but some are absolute garbage.
Shark is one of those brands that have dabbled into this niche because of its growing popularity.
We'll be looking at the Shark ION robot vacuums.
Is this brand a good, less expensive alternative to the Roomba robot vacuums?
We'll find out in this review.
Comparing the Shark ION Robots
Shark ION R75 vs. R85 vs. R87
Currently, Shark has three ION robots available. The latest is the ION S87 that is a combination of the ION R85 and the ION W1 handheld. Next in line is the R85, and the most basic is the R75 (no WiFi, Alexa, and Google Assistable compatibility) that strangely is a more costly option.
Of the three the R85 offers the best bang for your buck because it's the cheapest and has as much power as the Roomba I7 and 980!
This model does not have high-end features like such as persistent navigation or LDS, but for the price, you'll be getting a whole lot.
It's compatible with Alexa and Google Assistant plus it's got a smartphone app that you can connect via WiFi.
There are others, but those models have been discontinued, and Shark no longer sells them.
Plus those models are more expensive, so it doesn't make sense to purchase an older, costlier machine when you can get something newer, cheaper that picks up better.
We'll have a close look at these three Shark ION robots, how they differ and which provides the best value.
Pros
The R85 costs less than the Roomba 690 and 675 but delivers better airflow and performance.
Gentle on furniture
Whisper-quiet operation
Compatible with modern conveniences such as Alexa and Google Assistant
Outstanding performance for the price.
Cons
Only uses standard navigation that roams in a random direction.
Does not run as long as some of the ILIFE robots
Still uses magnetic tape to keep the robot away from no-go areas
Shark ION R85 Design
Not much has changed since the first ION Robot came out. All of their autonomous cleaners are round with a gray/black combo finish with some gold trim around the main interface.
The shade of gray will depend on the variant you select. For the newer R85 it comes with a charcoal/darker gray and black finish with some silver trim.
On the upper middle part are three buttons (on the R85):
Dock: Tells the robot to return to the dock and recharge.
Clean: Activates the default cleaning mode.
Max: Initiates the highest power setting.
The battery and WiFi indicators are on top of the three buttons and provide a visual cue on the status of each one.
Shark ION R75 Design
The ION R75 has a slightly altered color scheme but the same button and indicator arrangement. It has a lighter gray tone with the same silver trim around the middle.
The interface remains similar with a slight tweak:
Dock: Robot returns to dock to charge.
Clean: Will activate the default cleaning mode.
Spot: This triggers the robot's spot cleaning mode.
It's a simple design that's easy to use – there's no need to look at the manual to use it.
Shark ION R87 Design
At first glance, you'd think that the R87 is a different robot from the R85 because of the larger charging dock.
But in reality, it's a combination of two ION products – the R85 robot and the W1 handheld.
No, the R87 does not have the self-emptying capability of the Roomba I7 or S9.
The dock looks fancy, but it's just a basic dock that charges the robot and stores the handheld unit in place.
All ION Robots have a round shape with dual side brushes that work extremely well at cleaning corners and edges (more on that later).
Both the R75 and R85 are compatible with WiFi and will work with Alexa and Google Play.
These two robots don't have a remote since that app will provide the same functionality. The app also has additional functionality not found in the remote such as remote access.
The R72 does not have WiFi, so it has a remote to access features like scheduling.
People who prefer to use voice will find these two to be an attractive alternative to the more expensive Roomba 690.
How does the Shark ION robot clean?
To understand how these robots clean, let's look underneath and see their design.
All three current robots the same architecture that consists of two side brushes and a one main beater bar at the middle.
What makes the Shark different from other robots at its price range is the design of the side brushes.
Let's look at the side brushes of the R75 and R85.
R75 Side Brush
The R75 side brush, for instance, uses one prong with really long bristles and the other two prongs have shorter bristles.
R85 Side Brush
The R85 side brushes only have one prong with long bristles that spin slower than a Roomba which is better because it funnels dirt towards the cleaning nozzle.
A Roomba, for instance, spins at a faster pace which spreads the mess out more.
Next, let's look at the whole bottom.
Shark ION R75 [bottom design]
The R75 has two side brushes flanking the main cleaning brush. Behind the main brush is a row of brushes whose job is to funnel dirt towards the suction chamber and create a seal.
The main brush itself is a combo brush consisting of bristles and a rubber blade design.
Consumers say that the cleaning performance was excellent for the price, and this design is a primary reason why.
Shark ION R85
The R85 has almost the same design as the R75 but with a few minor tweaks. As I've said earlier, the side brushes on it have one prong, while the R75 have two.
Another difference would be the additional seals in front of the brush in addition to the one at the back.
This gives it better cleaning performance on crevices and carpet.
How does the Shark ION robot navigate?
Most Shark ION robots use standard navigation meaning it will go in a random direction.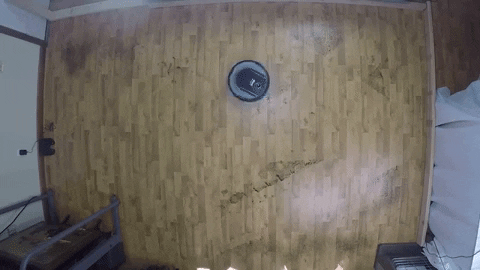 These products rely on infrared sensors for obstacle avoidance. On the sides of the robot are two sensors that detect obstacles close by and tells the robot to slow down.
This feature makes the ION robot less prone to scuffing furniture.
It does not have the smart mapping systems that the more expensive options have such as the Neato D7 or the Roomba I7, but it's pretty efficient.
The lack of this system means that it will not restart and resume after it recharges.
If you're willing to wait, Shark has the R100 coming out soon that has the smart navigation, but it'll be more costly.
The Shark ION R85 is capable of cleaning black carpet which is an advantage if your home has such.
Other robots will not go over it since their cliff detection sensors may think it is a cliff point and not allow the robot to go over it.
How much power does the Shark ION robot have?
Realize that there's no one standard that manufacturers use to measure power. Some use the power of the motor or watts. Others use air watts, while some Chinese brands use "kPa" or kilopascals.
One way to gauge power is by using an anemometer to measure airflow. It's a pretty accurate gauge that tells how much airflow the vacuum produces at the nozzle or wherever area you prefer to measure.
Of the current Shark robots available, the ION R85 has the most power with 20 cfm at the max setting, 15 cfm in the middle, and 9 cfm at the lowest setting.
Compare to more premium brands like the Roomba and Neato; it exceeds the airflow that the Roomba 980 and I7 and matches the Neato D7.
You'll get all this much power while hundreds less! In terms of the dollar for power ratio, this robot has got to be up there with the best.
Cleaning performance
Thanks to its solid brush roll and side brush design, it excels at picking up surface dirt.
Hard floor cleaning
One of the advantages of using a slower rotating side brush is it kicks around less dirt.
This benefit is most noticeable on hard surfaces where much less dirt is scattered around as it would on a robot with a fast spinning brush like the Roomba 690.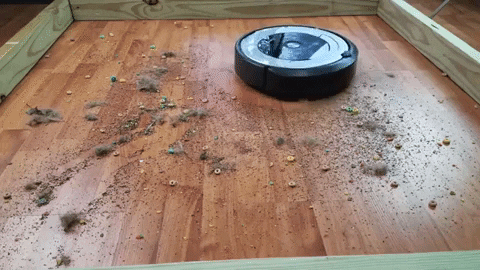 It is capable of picking up fine and large debris alike because it has a good seal and enough clearance to fit larger fragments of dirt.
Depending on the layout of your home, it will pick up close to 100% of dirt.
Edge cleaning is another strong point of the ION R85 as it did better than the more expensive Roomba 690 only leaving a few bits of dirt at the corner.
Carpet cleaning
There are two parts to this equation – the surface pickup and deep cleaning.
For surface pickup, the ION R85 did well regardless of size. It is capable of picking up dust, hair, cereal, and any typical dirt that you clean on a daily basis.
The combo brush design and the seal around it make it an outstanding vacuum for picking up surface debris.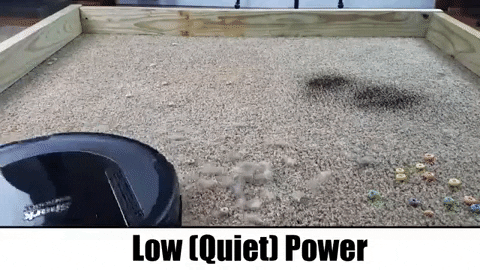 As far as deep cleaning goes, it's unfair to expect a robot to perform as well as an upright with its tiny motor that won't pick up as much.
The ION R85 still does decently well picking up deep cleaning 76% of embedded sand on medium-pile carpet. Take note that this was done on a small area so it will not be that exact same figure in every situation.
Noise level
Shark robots aren't very noisy at all compared to the Roomba. For instance, the R85 only produces 61 decibels at high and 59 decibels at low power.
Comparing to the Roomba 690 that has 72 decibels, it's much quieter.
Shark ION Robot dimension
The ION robot is one of the shorter robots at just 3.4" tall. It's shorter than the Roomba 980 and Neato D7 at 3.6" and 3.9" respectively.
Width: 12.5"
Depth: 12.8"
Height: 3.4"
Dust bin capacity
Shark says that the ION R85 has a capacity of 0.7 dry quarts which is around 0.77 liters. It's twice as big as the Roomba 690 at just 0.3 liters.
Availability of Replacement Parts
One issue with newer robot brands is the availability of replacement parts.
Always bear in mind that items like the filter, brushes, and battery will wear out eventually. If these parts aren't available, you'll end up with a worthless piece of machine.
Fortunately, with the Shark ION robot, these consumable items such as the side brush, beater bar, battery, and filters are available in Amazon or directly from the Shark website.
The Shark website is a wider range of parts not available in Amazon such as the front wheel, charging dock, dust bin, and even a battery door.
Usability
Another strong point of the Shark ION R75 and R85 is its usability.
Out of the box, everything almost comes in assembled. The side brushes just clip on place, so no tool is needed to remove or attach.
The main brush roll is easily accessed and cleaned.
Operating the robot is also simple. Just press the clean button and it goes through its default cleaning mode.
The app is also simple and easy to install. There were complaints in the R75 of the WiFi getting disconnected but that doesn't seem to be the case with the R85.
It's got basic functionality such as scheduling, starting and stopping the robot, and gives you access the history. However, it does not have information on the status of the filter or brushes, when it needs replacing.
Maintenance costs
When it comes to the running costs of a Shark robot vacuums, it isn't much. You can buy a kit that contains two sets of extra side brushes, two extra filters, and an extra brush roll for less than $14!
Of all the items, the filters need to be replaced the most often. The frequency will depend on how dusty the area is, what it needs to clean and if there are pets.
It may vary, could be once every two months or three months. Always check the filter and clean it using the brush tool that Shark includes in the package to make it last longer.
Shark ION R75 Replacement Kit
Shark ION R85 Replacement Kit
Let's say you go through one in a year, it still won't cost a lot provide due diligence is done in maintaining these robots. Make sure to regularly clean the wheels, brushes, sensors, and dust bin to keep it running in peak condition.
The main filter in these robots is not washable! Do not attempt to wash it in water as it can damage the motor and void the warranty.
Should the battery fail, Shark makes it easy to access the battery and purchasing a replacement is fairly inexpensive.
There should be no long term issues with owning a Shark ION robot battery with this much availability of parts at reasonable prices.
Value
Shark robots bring a lot of value to the table especially if you get one for below $200. It's got high-end power matching the Neato D7 and Roomba S9 when it comes to airflow.
Even at the lowest setting, it's got more power than the Roomba 690.
If you don't mind not having the high tech navigation system that more expensive robots have, it's a bargain!
The dust cup is one of the biggest of all robot vacuums available at 0.77 liters which is a big deal for options that do not have the auto empty dock.
It is quiet and the best part is you don't have to use the highest power setting because it has an outstanding design that picks up well regardless of airflow.
Now, there are some issues as I'll enumerate in the next section, but which robot does not have.
Also, there won't be an issue with parts availability as filters, batteries, side brushes, and other parts are available either at Shark's online store or at Amazon.
Potential issues that aren't deal breakers
Like with any robot vacuum, no product is perfect and Shark does have its flaws.
Uses magnetic tape: Most Shark ION Robots currently use magnetic tape as boundary markers. It does not have a virtual wall or functionality on the app for such. These tapes work (on occasion it does not) but it can get expensive if you need more for whatever reason.
Does not return to dock: I've read complaints of this robot getting lost and not returning to the dock. There could be numerous reasons for this. One of which would be the presence of obstacles or the layout being too complex. With the standard navigation, it's best to let the robot clean one room at a time.
Quality control issues: There are also consumers complaining about the poor quality of the robots failing prematurely. It's hard to pinpoint the exact reasons why. It may have to do with poor maintenance but it's worth mentioning.
Specifications
| Model | R87 | R85 | R75 |
| --- | --- | --- | --- |
| | | | |
| Dust cup capacity | 0.7 dry quarts | 0.7 dry quarts | 0.45 dry quarts |
| Width | 12.5" | 12.5" | 12.6" |
| Height | 3.4" | 3.4" | 3.5" |
| Self-Emptying Base | No | No | No |
| Recharge & Resume | No | No | No |
| Smart Mapping | No | No | No |
| Run time | up to 88 mins. | up to 88 mins. | n/a |
| Power (Eco mode) | 20 cfm | 20 cfm | n/a |
| Warranty | 1-year limited | 1-year limited | 1-year limited |
| Price | | | |
Is the Shark ION Robot a good robot vacuum to consider?
Shark robots offer excellent value for the money you'll fork out. Tests show that it has (at least the R85) as much power as the more expensive Neato D7 and more than the Roomba I7 and 980. That alone is good enough reason to consider this.
Sure there are complaints about quality control, but that can be dealt with by meticulously checking the filter and brushes and keeping them clean.
Like most electronic appliances, it will break down if you neglect it.
Why you should consider the Shark ION R85 Robot?
There are a total of three ION robots in Shark's product line at are readily available – the R85, R75, and the top-of-the-line S87.
The older models are no longer in production and usually sold by third-party sellers, so I wouldn't recommend it because it's more expensive.
Of the three, the ION R85 provides the best value because it has the most power, outstanding power, and excellent debris pick up.
If you can find an R75 that's less expensive than the R85 then go ahead with that. With regards to value, this is hard to beat.
The R72 being the oldest option is strangely the most expensive if you check Shark's website.
Now, why on earth would someone buy something older with less technology if there's something newer and less expensive?
I believe Shark is thinking the same thing and pushing the R85.
5 Reasons to pick with the R85:
Outstanding power: The ION R85 has excellent airflow which translates to above-average deep cleaning performance on carpet. It will also pick up surface dirt regardless of size.
Reasonably priced: Not many robot vacuums in this price range offer the power and features that the R85 does. This robot not only has WiFi but it's also compatible with Alexa and Google Assistant! It's one of the few options below $200 that has it.
Excellent design: It's got excellent pickup and seal that enables it to clean dirt on various surfaces such as carpet, rugs, and hard surfaces. The seal is good enough to also clean crevices other robots can't.
Large dust cup: The R85 can hold up to 0.77 liters of dirt. That's the same capacity as the Dyson V10 Absolute!
Availability of parts: The long term viability of the ION Robots thanks to the availability of parts such as the filter, brushes, battery, wheels, etc. plus it's cheap.
Click here to check the latest price of the Shark ION R85.
One of the Best Robot Vacuums Under $200
Navigation -

89%

Surface Cleaning -

95%

Quality -

94%

Design -

94%

Value -

95%

Deep Cleaning -

76%
Summary
The Shark ION Robot series, particularly the R85, is an excellent option for folks who just want a robot vacuum capable of cleaning floors. It does not have the advanced navigation of a Neato, Roomba, or Roborock or the self-emptying bin in the Roomba S9, but it will do the job. Shark also did an excellent job with the cliff sensors as this robot can go over a black carpet which is a rarity for other brands.