Most robot vacuum and mop combos go in straight overlapping patterns – for both vacuuming and mopping functions.
While this can be effective, I feel it isn't enough, mainly if you rely on it to mop.
This is where the Viomi V3 comes in – it's the first robot vacuum/mop I've tested with a back-and-forth movement similar to an iRobot Braava.
Based on my tests, it does a fantastic job of mopping stains off tile surfaces.
Is This The Best Robot Vacuum/Mop Combo?
Viomi V3 Review
The Viomi V3 offers consumers a lot of versatility thanks to its ability to mop and sweep floors well. You can vacuum, vacuum, and mop, or mop only. In addition to the dust container, it also comes with a two-in-one container, and a 500 ml water tank so you'll have more choices on how to use the robot. This model will work best on hard floor surfaces like hardwood or tile but struggles on the carpet (more on that below).
*If you click this link and purchase, we earn a commission at no additional cost to you.
Pros
Great for mopping floors, thanks to the back-and-forth motion.

This robot is an excellent option for cleaning hard floors.

It can save up to 5 map levels.

Has recharge and resume.

The intelligent navigating algorithm enables it to clean large spaces and multiple rooms.
Cons
Sub-par performance on carpets.

It cannot deep clean carpet.

Not as thorough as a Roborock S5 Max – it only goes over the area up to two times at most.
[toc]
Introduction to the Viomi V3
If you're unfamiliar with the Viomi brand, it's part of the Xiaomi Eco System. I believe this model is similar to the Xiaomi Mop P. If you put these two side-by-side, you can see the similarities.
The V3 is Viomi's latest model with more power, a larger battery, and the option to save up to 5 map levels.
This robot is unique to the other brands I've tested because it can mop floors like an iRobot Braava, moving in a back-and-forth motion.
The back-and-forth movement enhances its ability to remove stains on surfaces like tile.
Viomi V3 Design
Sleek and minimalistic are the first things that come to mind when you see this robot for the first time.
The robot I got comes in an all-black finish with glossy parts on top. On the upper part is the cover for the LIDAR sensor with the Viomi branding engraved.
At the opposite end are the two buttons:
Home: Instructs the robot to go back to the dock
Clean/Power: Turns the robot on or off and engages the default power setting.
You'll also notice the large door that reveals the matte-black dust container and a brush-cleaning tool attached.
The laser sensor comes in a neon blue finish, contrasting the design.
Underneath, the robot has a single side brush, with the main brush sitting closer to the front than the S5 Max.
Portions of the front wheel and main brush have neon blue finishes.
You'll also notice many holes behind the main brush – this is a placeholder for the mopping pad that covers more than 50% of the robot.
It's a large pad than the S5 Max and S6 MaxV – the larger surface area helps it mop better.
The V3 utilizes the more traditional side brush with bristle tips. I prefer the newer all-rubber side brush of the latest Roborock products, which I think will last longer.
It doesn't have a bolt, so you don't need a screwdriver to remove it – it just pops out when you pull.
How does the Viomi V3 navigate?
Like the high-end Roborock and Xiaomi robot vacuums, Viomi also utilizes LIDAR and SLAM for navigation. It has a smart navigation algorithm similar to the other two brands I mentioned.
The laser sensor spins continually to map out its position and draw the map.
It starts traversing the edges before cleaning the middle portions of the room in straight, overlapping back-and-forth movements.
Expect the same navigation as other robots that utilize LIDAR, such as Neato, Roborock, Xiaomi, 360, etc.
Unfortunately, it only goes around the area once by default. You'll have to turn on the "Secondary Cleaning Feature" in the app every time, so it goes around twice.
I hope Viomi addresses this issue in future app updates – the option of adding a third pass will be beneficial to consumers.
Will the Viomi V3 scuff furniture?
There's minimal risk of the V3 scuffing furniture. Two reasons. First, it slows down when it "sees" an obstacle and only nudges it.
Second, the front bumper has padding around it, providing more cushion and preventing it from scratching the objects it bumps.
I tested this by placing these two vacuums in the middle of the room to see if the V3 bumps into them hard.
It didn't and only nudged them lightly.
How did it do in cramped spaces?
One of the strengths of this robot is its ability to avoid getting stuck or lost under a maze of chair legs.
Not once did it wedge itself under this office chair. It was able to go around it with ease.
I'd say it's up there with the Roborock S-Series robot as the best option when it comes to traversing small spaces.
Can it avoid wires?
Unfortunately, the V3 will not avoid wires. It does not have the technology in the Ecovacs T8+ that can avoid obstacles like this.
App features of the Viomi V3
This robot is compatible with the Xiaomi Home App. I was expecting the same interface as the Roborock, but it was different. There are differences in the color scheme and layout. The map is beige with a light gray border.
Right below, there are six buttons – three in each row.
On the upper row are:
Stop/Dock: Instructs the robot to stop clean or return to the dock.
Start: Enables the default cleaning cycle.
Map: Shows users more options – Area Editor, Virtual Wall/Restricted Area, Fixed Cleaning, Clean Area.
At the bottom row are:
Vacuum: The robot will only vacuum.
Vacuum and Mop: Robot will vacuum and mop simultaneously.
Mop: The vacuum motor shuts off, and the robot only mops.
I quickly go through the most useful features of the Viomi app.
Virtual wall and restricted area
One of my favorite features is the virtual wall and restricted area. These two provide users with a way to block the robot from off-limit regions without using an object to stop the robot physically.
The virtual wall allows users to draw lines on the map to prevent the robot from going into areas past it.
So for our home office, it's in this area.
[photo]
You can set as many virtual walls as you want, so it's very convenient.
The restricted area is a similar feature but blocks the robot from a rectangular or square zone.
It's handy for preventing the robot from mopping areas in your home with rugs or carpet.
Cleaning patterns
Another option not found in the Roborock S-Series robots like the S5 Max, S6 MaxV, or S6 Pure is selecting a cleaning pattern.
Other LIDAR robot vacuums only use the S-pattern or straight, overlapping movements.
The Viomi V3 has two options – the S-pattern for vacuuming, and the Y-pattern for mopping.
I like the Y-pattern because of the back-and-forth motion that mimics how you mop floors. It provides better agitation, so it's more effective at removing stains on hard surfaces.
Area editor
Another helpful feature is the area editor. It enables users to divide each map into different areas. There's also the option to name each location on the map.
You can schedule the robot to clean specific areas at varying times.
Scheduling
Folks can set unlimited runs per day. If you want the robot to clean your home every hour, that is possible with the app.
This feature somehow negates the lack of passes – the robot only goes around once by default.
Side sweeping
This function instructs the robot to clean only the edges. I don't use this feature much since I want the robot to clean the whole area.
Secondary cleaning
By default, the V3 will only go around the area once. You'll have to turn on the secondary cleaning feature if you want a more thorough run.
It tells the robot to do a second run, but it won't go further than two.
Realize that this feature doesn't stay on. You'll have to turn it on every single time.
Cleaning history
It shows you all the cleaning runs of the robot for the last 30 days, along with the corresponding maps.
Also, it provides information on the time spent cleaning and the size of the area.
Map List
The Viomi app allows users to save up to 5 map levels and is accessible through the map list section.
However, the process of creating a new map isn't as straightforward as Roborock, which it provides you with a step-by-step guide.
With Viomi, it's not as straightforward.
If you want to create a new map, first move the robot to a new location, and next run the robot, then the app will ask if you want to save the plan.
Make sure to enable the memory map option to save the maps.
Consumable statistics
This section provides users with the status of the various consumable components like the filter, brushes, and mop.
It shows the remaining hours before replacing any of these parts.
One way to maximize the longevity of these components is to clean it regularly.
How noisy is the Viomi V3?
I measured the V3's noise using a sound meter a few feet away, and here are the results.
Silent: 59.4 dB
Standard: 62 dB
Medium: 64 dB
Turbo: 66.4 dB
It exceeds the 65-decibel mark, which is louder than the Roborock S5 Max. No ear scratching levels, but you'll know the robot is running even if you're next door.
How much power does the Viomi V3 have?
I used an anemometer to measure airflow at the main cleaning head.
Here are the results.
Silent: 9.33 CFM
Standard: 12.32 CFM
Medium: 14.2 CFM
Turbo: 17.10 CFM
It's slightly lower than the Roborock S5 Max, but it has more than the top-of-the-line S6 MaxV.
The airflow is enough for the V3 to clean debris on hard floors. Unfortunately, it didn't translate well on carpets (more on below).
Dust container and volume
Opening the top door reveals a matte black dust container that matches the rest of the body. Behind it is a washable HEPA filter.
One feature I like about the V3 dust container is the layer of material covering the filter. It's dense enough to prevent dust bunnies from sticking to the filter, which is an issue with Roborock products.
This feature is an excellent addition to making it less messy to dispose of dirt.
The V3 can hold up to 0.55 liters of dry dirt. It also has a door, so emptying it won't be a problem.
2-in-1 water tank/dust bin
In addition to the dust bin, you'll get a 2-in-1 vessel that combines a dust container and a water tank. Viomi doesn't specify how much water it can carry, but it's not much.
The difference between the 2-in-1 and regular dust bin is the capacity and how you empty it.
For the dust bin, it's as simple as opening the door and then dumping the contents. The 2-in-1 container doesn't have a door – you'll have to pull out the filter and empty it from the rear portion.
550 ml water tank
One significant difference between the Viomi V3 and the Roborock S5 Max and S6 MaxV is this container.
The V3 has a 550 ml water tank – larger than the 291 ml water tank of the S5 Max.
In theory, the V3 should cover more ground with this much capacity. But it uses up water much faster than the S5 Max because of the Y-pattern it utilizes.
I filled up the tank past the halfway point before the test, and it was empty afterward.
How does the Viomi V3 navigate?
With LIDAR and SLAM, the V3 is one of the more efficient navigating robots. Like its Roborock counterpart, the V3 starts cleaning the edges before moving toward the middle portion in straight lines.
By default, it will only go around the area once. You'll need to turn on the "secondary cleaning" feature for it to go around twice.
I tested it extensively, and it was very good at navigating around cramped spaces under furniture. Not once did it get stuck or wedge itself under chair legs.
It is efficient and gentle as it'll slow down, so it doesn't bump furniture at full speed. It only nudges it.
You can use this inside larger homes because of the advanced algorithm and the recharge and resume feature.
I like LIDAR because it's pretty accurate at pinpointing its location. There's minimal risk of this robot getting lost if there's enough space around the charging dock and you tidy up all the wires.
Cleaning performance
Next, we'll look at how well this robot cleans various debris on hard floors and carpets.
First, let's look at the overall results.
Overall: 72.82%
Hard floor: 99.4%
Carpet: 79.8%
Sand on hard floor: 99.6%
Deep cleaning: 12.5%
One glaring thing you'll notice is the deep cleaning results dragging the overall score down.
It's something I didn't expect, especially with the above-average airflow results, but that's why I do all these tests.
Hard floor results
Quaker oats: 99%
Coffee: 100%
Quinoa: 99.2%
Pet litter: 99.4%
The Viomi V3 was nearly perfect on hard floors with a 99.4% score, and this is despite the lack of passes (only 2) compared to Roborock products like the S6 Pure.
It was able to make clean passes, though the side brush did scatter some of the debris.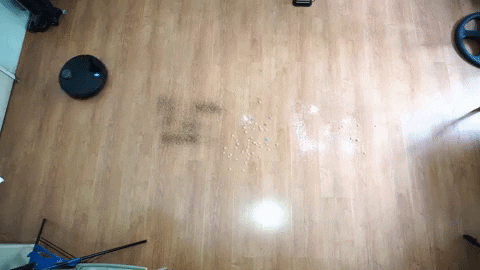 I also tested it on a pile of debris – coffee, quinoa, Fruit loops, and Cheerios- and it picked up a very high percentage.
Sand on hard floor
Another area it excels at is cleaning sand on hard floors. It was able to pick up an average of 99.6% of sand in two tests.
If you use the max setting, it pretty much picks up everything in this path.
Hair wrap test on hard floors
I also did a hair wrap test where I scattered between 1 to 1.2 grams of 5 to 7-inch long human hair on hard floors.
The V3 could pick up every strand of it, but a significant portion of it wrapped on the brush.
Only this much went inside the dust container.
I wouldn't recommend the V3 for cleaning long strands of hair because you'll have to spend time cleaning the brush.
My wife recently cut my hair, and I decided to test the V3 on this type of mess.
And wow, it was able to pick up most of it.
Just look at the dust container afterward.
Cleaning short strands of hair like this won't be an issue.
Edge cleaning
This robot is better than the Roborock E4 and the Roomba 690 I recently tested.
It picked up a significant portion of the coffee grounds I scattered on the edges. One thing hindering the V3, as with other robots with a round shape, is the lack of reach.
Robots with a square shape front, like the Neato D6 and the Roomba S9+, will be better at cleaning this area.
Carpet results
The results on the carpet are a mixed bag. It did well on certain types of debris like quinoa, okay with coffee and Quaker oats, but it struggled with pet litter and sand.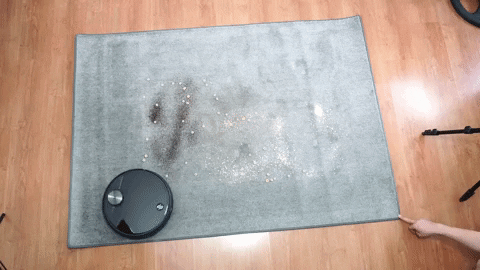 Let's first look at the results.
Low pile results
Quaker oats: 84.8%
Coffee: 88.8%
Quinoa: 98%
Pet litter: 66.6%
The V3 did best with quinoa on carpets, picking up 98% of it. It isn't as high as the other premium robot vacuums I've tested, but it's an excellent score.
Yet, it struggled most with pet litter – only picking up 66.6%.
Mid pile results
Quaker oats: 81.6%
Coffee: 82.2%
Quinoa: 96.8%
Pet litter: 39.6%
The scores of the V3 on mid-pile carpet across the board are even lower than low-pile carpet. This shows the lack of agitation from the primary brush roll.
I'm not sure what's causing this. When the V3 cleans carpets, I noticed that the rear end slightly slopes upward.
Any misalignment is a big deal with these machines since it doesn't have the same power as a vacuum with more power like a stick or upright vacuum.
Deep cleaning test
I rubbed 100 grams of sand on mid-pile carpet to see how well the V3 does, and it wasn't good.
As you've probably seen earlier, it only picked up 12.5%
Hair wrap test on carpet
Another struggle for the V3 is its inability to pick up hair on carpets.
There is hardly any hair wrapped on the brush because most of it is still on the surface. Again, it doesn't have enough agitation to pick up hair on carpets.
I opened the dust container, and there was barely any inside.
So I had to use the Dyson V11 Torque Drive to remove all the hair the Viomi V3 couldn't pick up.
Large debris test
Cleaning large stuff like Cheerios and Fruit loops won't be a problem for the V3. It has enough clearance and suction to do the task.
I tested it on both hard floors and carpet, and it was up to the task on both surfaces.
You can see in the clip above that the V3 makes clean passes, especially on hard floors.
Here's a short clip of the V3 cleaning Cheerios and Fruit loops on hard floors.
Some of the debris was kicked by the side brush, but the V3 was able to clean it on subsequent passes.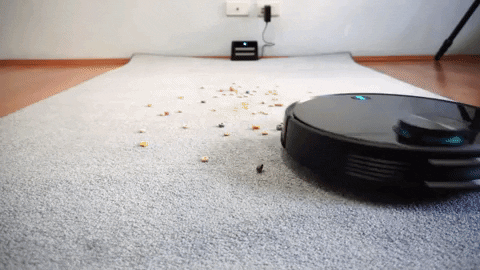 It also did well cleaning large debris on carpets – not as clean as it is on hard floors, but acceptable.
Mopping performance
If there's one reason to buy the Viomi V3, it mops very well.
This model is the first robot vacuum/mop hybrid I've tested capable of mopping in a back-and-forth motion similar to an iRobot Braava.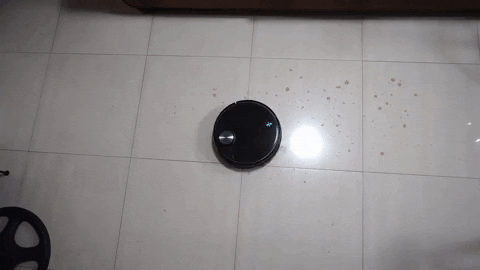 Viomi calls this the Y-pattern because it does it in a Y-shaped pattern, as you'll see in the clip above.
The back-and-forth movement provides better agitation, so it cleans stains better. I tested it on red wine stains, and it cleaned up all of it.
There was minimal residue (if any), and you didn't need to do anything afterward.
However, this pattern takes longer to finish compared to the straight motion of the Roborock S5 Max, and it uses up water faster.
So it won't cover as much ground as the S5 Max or the S6 MaxV.
I filled up the water container halfway, and it used up all of it during this run.
How long does the Viomi V3 run?
According to Viomi, the 4,900 mAh battery will run for up to 150 minutes – around 50 minutes less than the Roborock E4 and 30 mins less than the S6 MaxV.
With recharge, resume, and intelligent navigation, this robot vacuum will clean larger spaces because of its efficiency.
What comes in the box?
You'll get these items out of the box.
Viomi V3 robot vacuum – dust bin already inside it.

2-in-1 water tank and dust bin container.

550 ml water tank.

Extra washable pad.

Two disposable pads.

One charging dock with a plug.

User manual.
It also comes with an extra side brush, so you'll have something to use if the other one wears out.
Replacement filters, brushes, and pads are available on Alibaba. If you're planning on getting this, I'd suggest you buy the bundles, as it offers better value.
Maintenance
Like all robot vacuums, the V3 needs TLC to run at its peak for years.
These are the things you need to do periodically.
Clean the brushes: check the side brush and primary brush roll for any hair or dirt that may have wrapped on it. Too much hair or debris on it will impede the airflow and can potentially shorten its service life.
Filter: even if the filter is washable, I would not recommend immersing it in water because it will degrade the paper element. Use a handheld vacuum (like a Dyson V7 Trigger or Roborock H6) with a brush attachment to clean any dirt inside the folds.
Sensors: there are various sensors around and underneath the robot. Use a clean microfiber towel or cotton buds to clean these areas.
Mopping pad: wash the pads after every use to ensure that contaminants from the previous cycle don't soil your floors.
Product specifications
| Model | Viomi V3 |
| --- | --- |
| Manufacturer | Viomi |
| Battery | 4,900 mAh Li-ion |
| Run time | Up to 150 mins. |
| Water Tank Capacity | 550 ml. |
| Dirt Capacity (dry) | 550 ml. |
| Weight | 7.93 pounds |
| Diameter | 13.78 inches |
| Height | 3.72 inches |
| Smart Navigation | Yes |
| Recharge and Resume | Yes |
| HEPA Filtration | Yes |
| Side Brush | Yes |
| Extra Filter | None |
| Manufactured In | China |
| Warranty | 1 year |
| Price | Check Price |
Where can I buy the Viomi V3?
You can buy the Viomi V3 from online stores like GearBest or Aliexpress. I got mine from the latter. Unfortunately, this robot isn't available on Amazon.
A cheaper version is available – the Viomi SE and, for a limited time, priced under $300 (from Sept 21 – Oct 4) in GearBest. It has similar features to the V3 but with a smaller battery.
Note: I will earn a commission if you purchase through any of the links above, but at no extra cost, so it's a win-win for both of us!
Does the Viomi V3 provide excellent value?
The answer will depend on what you need from a robot vacuum.
This robot is an excellent option for people looking for a robot that can mop and vacuum hard floors.
It cleans hard floors well and mops like an iRobot Braava, so you're essentially getting two robots for the price of one.
There are some issues with the lack of thoroughness, but those are minor compared to the benefits you'll get from it.
I'd say it's better than the S5 Max for mopping because of the back-and-forth motion.
However, it's not good on carpets. Don't buy this if you have many rugs or want it to clean embedded dirt.
The Verdict: Great Option for Mopping and Vacuuming Hard Floors
I'm impressed by how the Viomi V3 mops. If there's anything reason to buy this – the mopping feature alone makes this robot worth considering.
I've been hoping for a manufacturer to come up with a robot that can do back-and-forth movements, and the Viomi does it well.
Consider this robot if you're looking for an autonomous helper to mop and vacuum hard floors efficiently.
5 Reasons to buy the Viomi V3
Excellent at mopping: This is one of the best robots I've tested at mopping floors. It will do an excellent job at removing stains on surfaces like tile.
Smart navigation: The V3 combines LIDAR and SLAM to map out and track its location. It navigates like the Neato Botvac and Roborock but isn't as thorough.
Recharge and Resume: If the battery runs low and the robot has not completed its task, it will recharge and resume where it last cleaned.
Great on hard floors: It cleans hard floors efficiently, picking up most of the debris in the forward pass.
Feature-rich app: The Viomis app provides users with many options for mopping and scheduling.
An Excellent Option for Vacuuming and Mopping Hard Floors
Navigation -

95%

Deep Cleaning -

12.5%

Surface Cleaning -

92.93%

Quality -

94%

Design -

95%

Value -

95%
Summary
The Viomi V3 is one of the best vacuum and mop combos I've tested. In addition to the electronic water tank, it utilizes a back-and-forth motion for mopping surfaces making it very efficient at removing stains. It also scores high-marks in vacuuming hard floors. Unfortunately, it did not do very well cleaning carpet. It struggles with picking up embedded sand in medium pile carpet. It's something to consider for people looking for an autonomous cleaner to clean any hard surface in their home.